JOHNNY LEWIS PUSHES THROUGH AT TRICKY NEW YORK SHORT TRACK DOUBLEHEADER
Ladies of Royal Enfield Build. Train. Race. highlight MotoAmerica Pitt Race & New York Short Track
Milwaukee, WI – It was a big weekend for Royal Enfield race teams, as Johnny Lewis and the Moto Anatomy X team took on Weedsport Speedway for the New York Short Track Doubleheader. The women of Royal Enfield Build. Train. Race. (BTR) also had a doubleheader of sorts, with both Road Racing at Pitt Race MotoAmerica, and Flat Track at Weedsport Speedway taking place on Saturday, August 14. Johnny Lewis carded a fourth-place finish in the American Flat Track Production Twins class on Friday night, followed by seventh place on Saturday evening. In the BTR showdown at the New York Short Track, Jillian Deschenes edged out previous round winner Jaycee Jones for the win, while the BTR Road Race podium was once again dominated by CJ Lukacs, who continues to shine in the MotoAmerica BTR exhibition.
Johnny Lewis and the Moto Anatomy X Royal Enfield Racing Team continue to make progress with the Twins FT race bike. After the historic win at the Lima Half Mile, the Moto Anatomy team has tasted success, and are ready to fight for more wins. On Friday night, the first New York Short Track of the doubleheader at Weedsport Speedway in Weedsport, New York, Lewis was knocking on the door of the podium, right on the heels of Dalton Gauthier, but ended one step away in fourth at the flag.
On Saturday night, the Moto Anatomy X team continued to chase setup on the slick track and changing conditions. In a testament to the crew's hard work and Lewis' consistency, he carded a solid seventh-place finish on the Royal Enfield Twins FT.
"These slick clay ovals have been tough to dial in but we aren't giving up," said Lewis. "An ever-changing surface made a day of endless changes right up until the main event on Friday. On Saturday we lost valuable time in the opening laps, but held on for a seventh. I'm ready to put this one behind me and we're all excited to head to Peoria TT this weekend."
"Johnny continues to improve his impressive performances on track," said Breeann Poland, Marketing and Communications Lead – Royal Enfield Americas. "We're proud to see a solid fourth on Friday night and seventh the following evening on the slick and fast track, where the entire paddock was battling complicated conditions. We're now looking forward to the Peoria TT."
BUILD. TRAIN. RACE.
Saturday night at Weedsport Speedway saw the ladies of Build. Train. Race. take to the track for the third round of BTR Flat Track. Once again, it was Jillian Deschenes and Jaycee Jones duking it out for top honors. With one win apiece in the previous two rounds, the duo came into New York locked in battle for the championship. Round-one winner Deschenes answered back with another victory, besting Jones, this time by over five seconds. Malary Lee claimed the third and final podium position.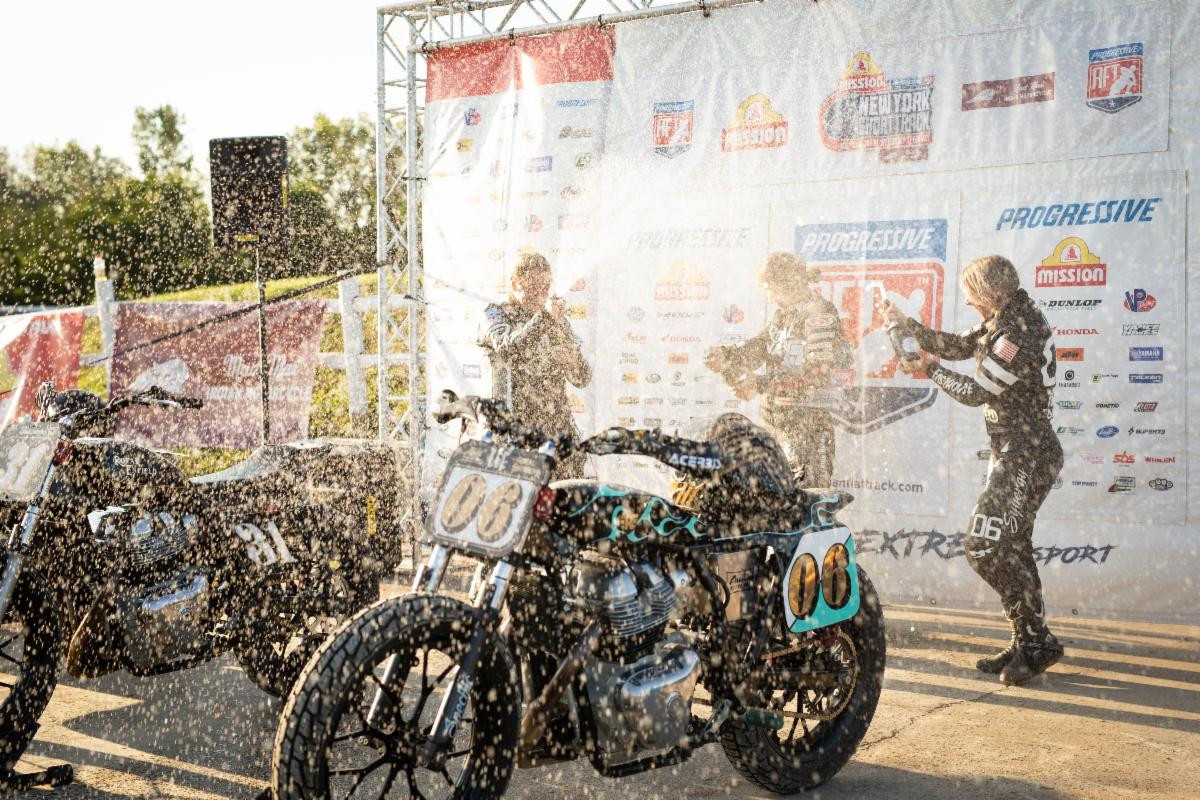 "Flat Track racing never fails to send me home smiling from ear to ear," said Deschenes. "But the champagne showers on the podium with my friends are those moments I will never forget."
The BTR Road Race team was also in action on Saturday, and it was once again CJ Lukacs with a dominant performance, this time at Pittsburgh International Race Complex. The former pro motocross racer proves to be taking to the tarmac with ease, and took her second victory in as many races, leaving the rest of the field to battle behind her. Trisha Dahl claimed another runner-up finish while Becky Goebel took third. Dahl fended off a late-race challenge from Michaela Trumbull to secure her position on the podium in third.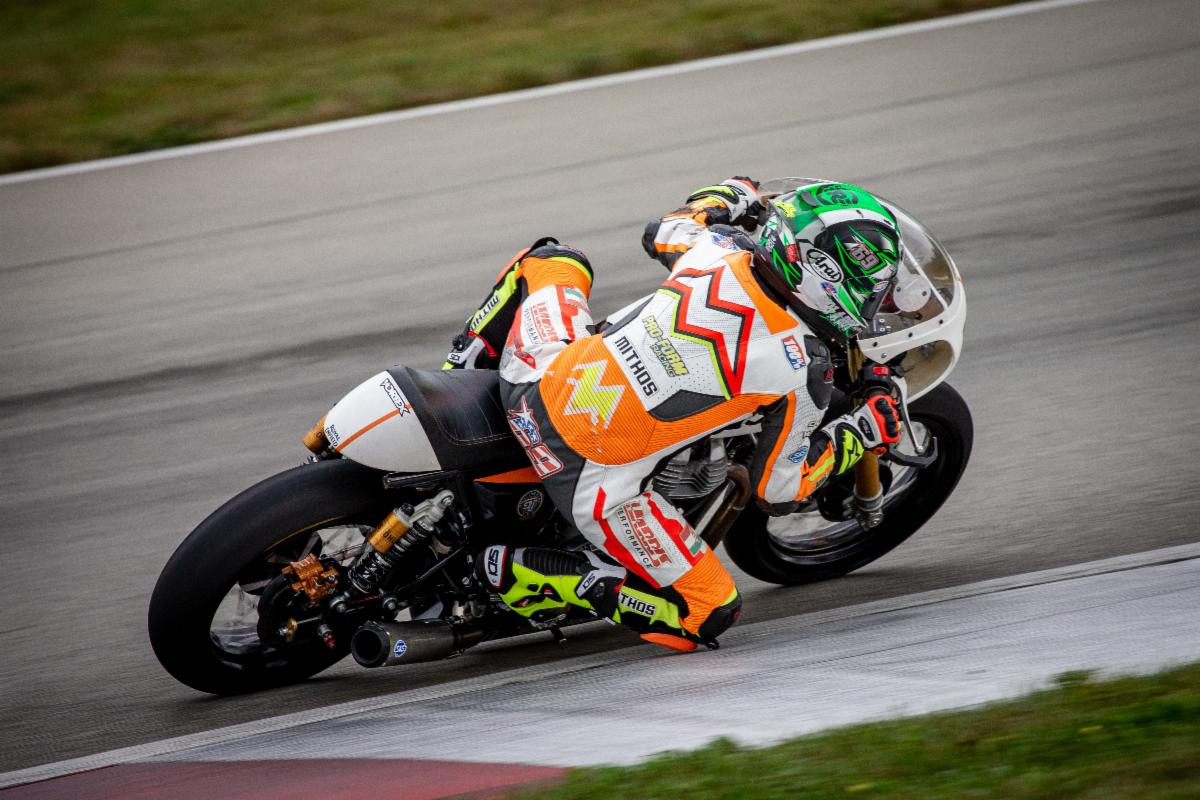 Despite her dominant performance, Lukacs admits, "This weekend was a tough one for me. Trying to learn this track with limited time was challenging. I became a little faster as the race went on and just stayed consistent found my flow. Melissa [Paris] really helped me interpret what was happening to help me find my footing. I couldn't be happier to come out with a second win. I'm so grateful to have the support around us to help us succeed. It wouldn't be possible without them. It's humbling; it truly is."
"Our BTR Program participants continue to amaze me. We are a few races in for both Road Racing and Flat Track, and the women are learning more every time out and honing their skills," said Breeann Poland, Marketing and Communications Lead – Royal Enfield Americas. "In both disciplines, the battles on track are keeping us all on the edge of our seats. We came up with this program to empower and inspire more women to get into motorsports and I think it's working. The support from the community and our racing partners has been more than we could have hoped for."
Royal Enfield BUILD. TRAIN. RACE.
Round 2 Results – Pittsburgh MotoAmerica
1. CJ Lukacs
2. Becky Goebel
3. Trisha Dahl
4. Michaela Trumbull
5. Alyssa Bridges
6. Kayla Theisler
7. Scarlett Grosselanghorst
Visit https://motoamerica.com/standings/ for detailed results.
Royal Enfield BUILD. TRAIN. RACE.
Round 3 Results – New York Short Track AFT
1. Jillian Deschenes
2. Jaycee Jones
3. Malary Lee
4. Lanakila MacNaughton
5. Sarah Dixon
6. Gabrielle Hughes
7. Bridgette LeBer
Visit https://www.americanflattrack.com/results/default for detailed results.
The women of Royal Enfield BTR Road Racing will be back in action September 17-19 at Barber Motorsports Park in Birmingham, Alabama for the third and final round. The Build. Train. Race. Flat Track program will race their fourth and final round at the Charlotte Half-Mile in Charlotte, North Carolina on October 8. Find more information on the Royal Enfield BUILD. TRAIN. RACE. Road Race Program at https://buildtrainrace.com/.
About Royal Enfield
The oldest motorcycle company in continuous production in the world, Royal Enfield made its first motorcycle in 1901. A division of Eicher Motors Limited, Royal Enfield has created the midsize motorcycle segment in India with its unique and distinctive modern classic motorcycles. With its manufacturing base in Chennai, India, Royal Enfield has been able to grow its production rapidly against a surge in demand for its motorcycles. Royal Enfield is a leading player in the global middleweight motorcycle market.
Royal Enfield North America (RENA) is headquartered in Milwaukee, Wisconsin, and is developing a growing network of more than 125 dealers in North America, including the contiguous U.S., Canada and Puerto Rico. RENA currently offers the all-new Meteor 350, Himalayan and the 650 Twins (INT 650 and Continental GT 650) motorcycles, along with a range of Genuine Motorcycle Accessories and apparel.
For more information on Royal Enfield North America, visit www.RoyalEnfield.com/us/en/, www.Instagram.com/RoyalEnfield_NA, www.Facebook.com/RoyalEnfieldNorthAmerica.
More, from a press release issued by KTM Factory Racing:
RED BULL KTM FACTORY RACING TEAM MANAGE TOUGH WEEKEND AT NEW YORK SHORT TRACK
Rounds 9 and 10 – American Flat Track Championship
WEEDSPORT, N.Y. – The American Flat Track Championship delivered another intense double-header weekend with the New York Short Track taking place back-to-back nights for rounds 9 and 10 of the series. The Red Bull KTM Factory Racing duo of Max Whale and Shayna Texter-Bauman battled through adversity all weekend long but both multi-time AFT Singles Class winners are optimistic on their direction heading into the final stretch of the series.
Entering the race weekend as the AFT Singles Championship points leader, Max Whale was prepared to keep his momentum rolling in New York. He struggled to piece it all together on day one, finishing sixth in Semi 1 and claiming an uncharacteristic eighth-place finish in the evening's Main Event. Texter-Bauman qualified into the first Main Event by way of a seventh-place finish in the semi and she battled from a fourth-row start to finish 16th on the night.
With a fresh start on day two, Whale bounced back with a solid third in the semi and he transferred into the Main Event with ease. He got off to a 10th place start in the main and quickly passed his way up to fifth, holding on for a top-five finish on the second day of racing. The Aussie now sits only two points back in the championship standings with plenty of racing left to go in 2021.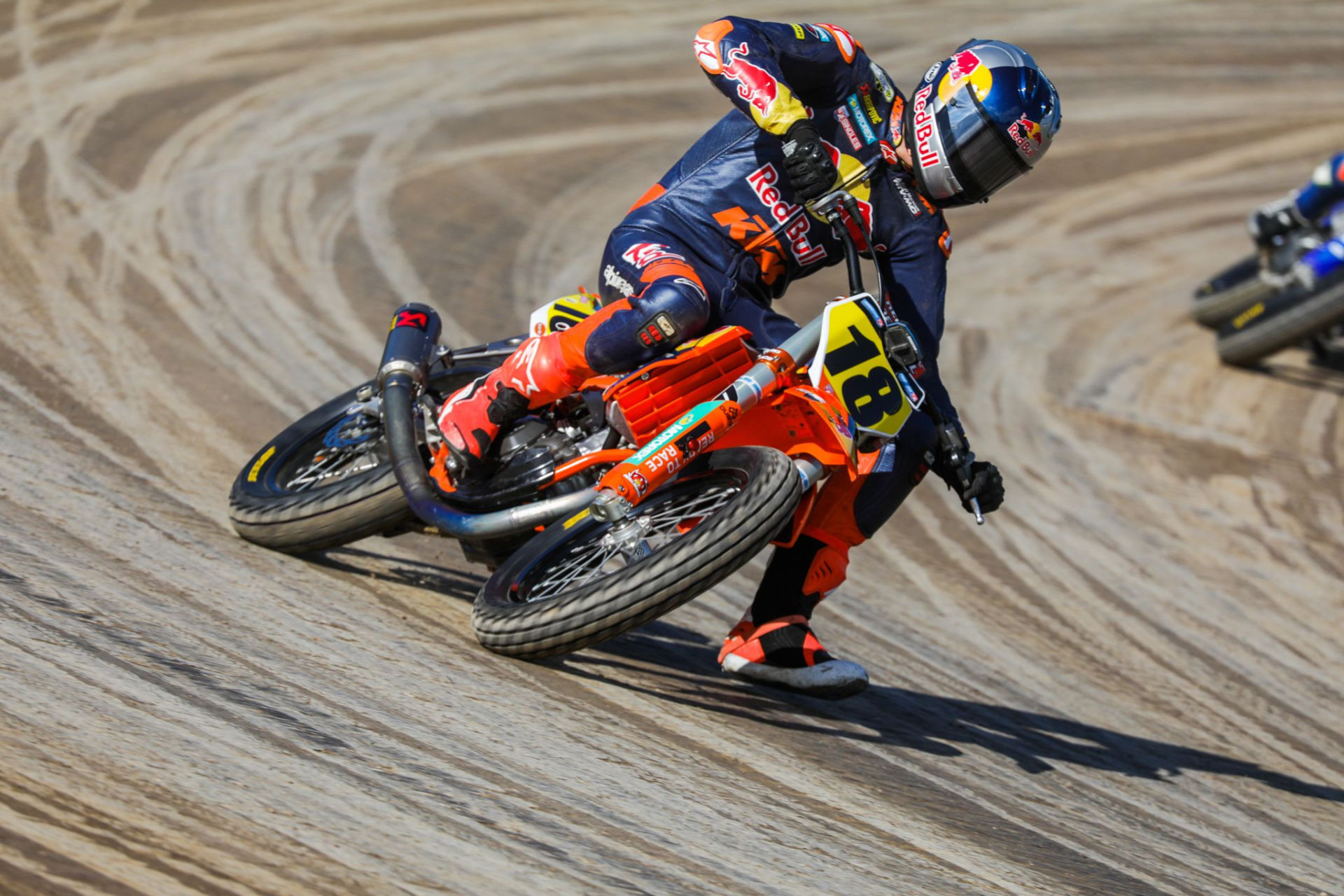 Whale: "Tough weekend at New York Short track. I struggled on day one, I just couldn't figure it out. That was probably our biggest struggle all year. On day two, we qualified better and had a better semi, which was good. I had a really bad start in the Main Event, I was in 10th on the first lap and ended up making my way back to fifth. I wasn't far off a podium spot, so that was a good positive, and I'm just happy we figured it out and made some changes to move forward."
It was a tough night two for Texter-Bauman, who was on-track to battle for a spot into the Main Event through Semi 1. However, she got pushed off the race track on the opening lap and wasn't able to make up time in the short eight-lap race, therefore missing the transfer by only two positions. After 10 rounds, Shayna sits ninth overall in the AFT Singles Championship point standings.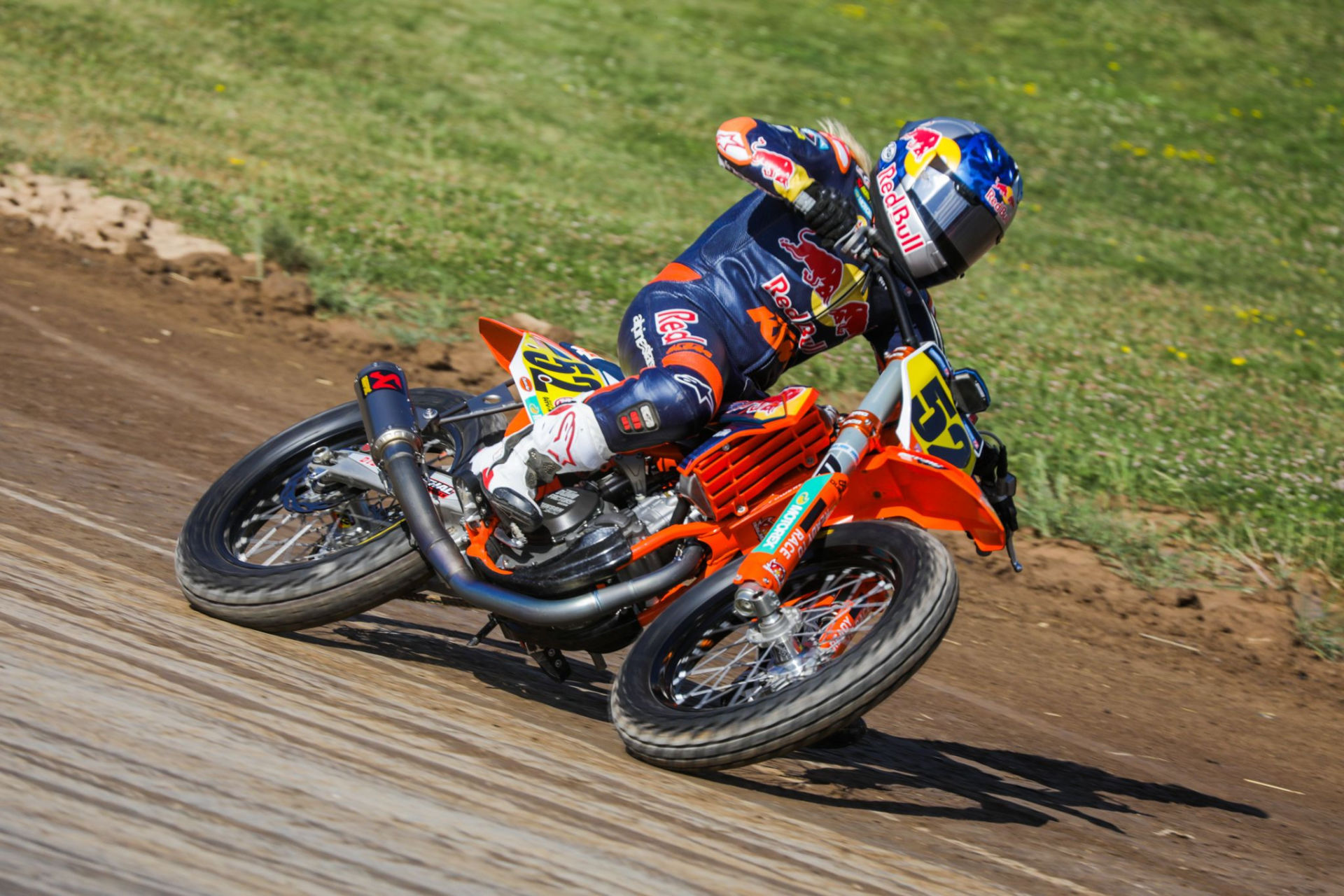 Texter-Bauman: "On night one, I felt pretty good to start the day and we just continued to chase the track as the conditions got a lot drier and slick. I ended the night 16th and felt like we had learned a little bit in the Main so we were pretty encouraged going into night two. I felt good and felt like we had a good bike for the semi and we got off the line and got kind of shuffled going into turn one by a guy behind me and kind of pushed me off the race track. The track was really dry and slippery and that little bit of time that I gave up by getting pushed off the track was enough to allow a couple people to go up underneath me and the track was really hard to make up time and pass on so unfortunately, I wasn't able to qualify for the Main Event. Overall positives from the weekend, we were able to make some improvement to the motorcycle and it was working well, and I felt like we definitely had speed to be in it come Main Event but unfortunately the eight-lap semi cost us the rest of the night."
KTM-mounted rider Morgen Mischler earned his first AFT Singles Main Event victory of the season on night two, backing up a solid third-place podium finish on the first night. Mischler sits third overall in the championship standings with an impressive season thus far.
Next Race: Peoria TT – Peoria, Illinois – August 21, 2021
AFT Singles Main Event – New York Short Track I
1. Dallas Daniels, Yamaha
2. Trevor Brunner, Honda
3. Morgen Mischler, KTM
OTHER KTM
8. Max Whale – Red Bull KTM Factory Racing
16. Shayna Texter-Bauman – Red Bull KTM Factory Racing
17. Damon Ream, KTM
AFT Singles Main Event – New York Short Track II
1. Morgen Mischler, KTM
2. Brandon Kitchen, Husqvarna
3. Dallas Daniels, Yamaha
OTHER KTM
5. Max Whale – Red Bull KTM Factory Racing
14. Damon Ream, KTM
16. Hunter Bauer, KTM
AFT Singles Point Standings (After 10 Rounds)
1. Dallas Daniels, 178 points
2. Max Whale – Red Bull KTM Factory Racing, 176
3. Morgen Mischler, 150
OTHER KTM
9. Shayna Texter-Bauman – Red Bull KTM Factory Racing, 94
More, from a press release issued by Indian Motorcycle:
INDIAN MOTORCYCLE RACING WINS AT NEW YORK SHORT TRACK DOUBLEHEADER
Indian Motorcycle Privateer Sammy Halbert Captures First Win of Season aboard FTR750,
Wrecking Crew Rider Jared Mees Returns to the Top of the Box with Third Win of the Season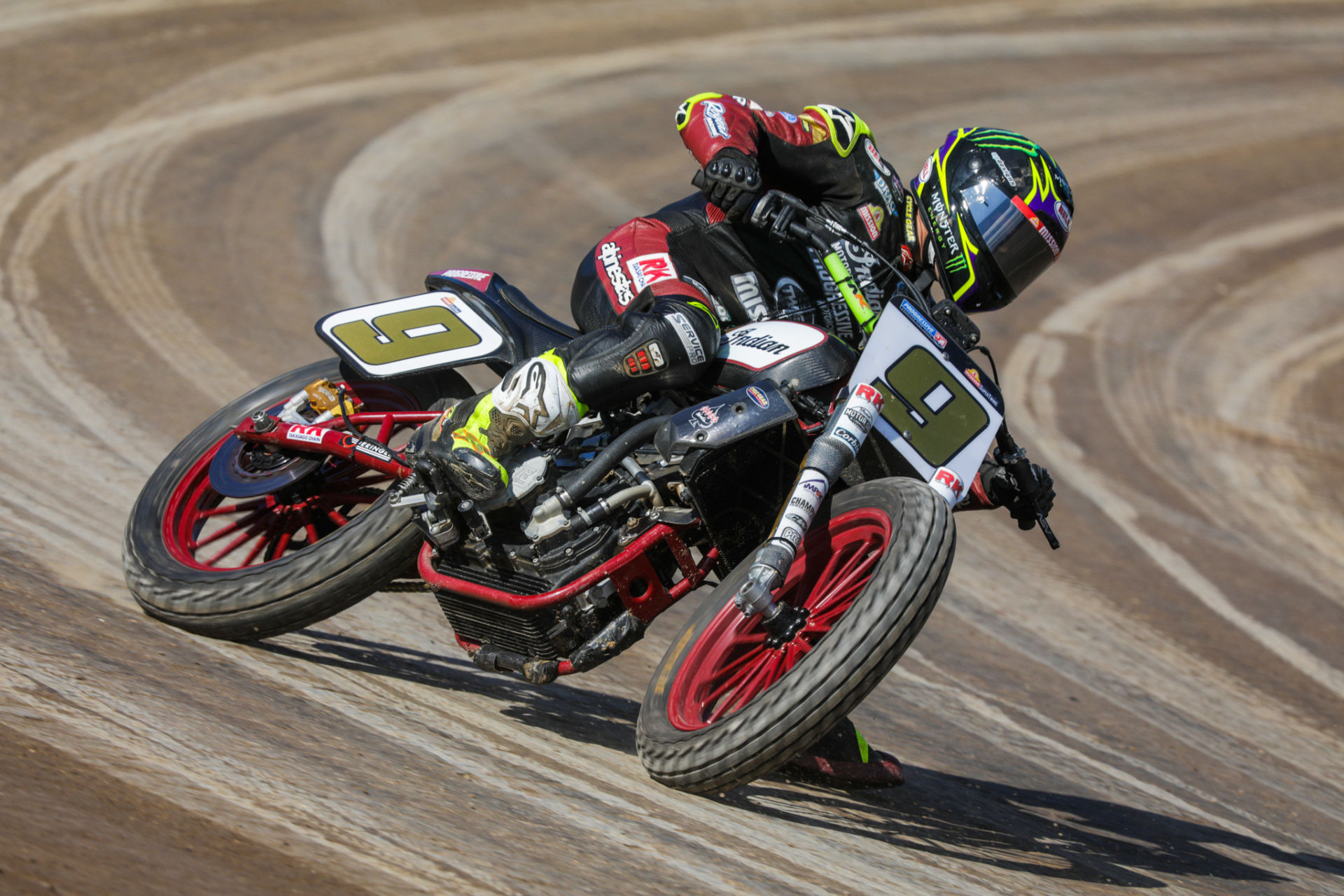 WEEDSPORT, N.Y. – Indian Motorcycle Racing, presented by Progressive Motorcycle Insurance, continues its success within the 2021 American Flat Track (AFT) SuperTwins season, as Indian Motorcycle Racing privateer Sammy Halbert and Wrecking Crew rider Jared Mees each captured wins at the New York Short Track doubleheader. Piloting the FTR750, Halbert secured his first win of the 2021 season, while Mees returned to the top of the box for his third win of the season.
On Friday, the two-time reigning SuperTwins Champion Briar Bauman was in a close and aggressive battle with Halbert. Living up to his nickname, 'Slammin' Sammy Halbert was able to pull away from the No. 1 plate and secure the victory – leaving the two Wrecking Crew factory riders, Bauman and Mees, left to duke it out for second. Ultimately, Bauman was able to fend off Mees and reach the podium for his eighth straight race.
"Sammy has been battling an injury over these last several weeks, so to see him come back and battle with Bauman and get his first win of the season says a lot about his competitive nature and drive to win. Hats off to him, Kenny and the entire Coolbeth-Nila Racing team," said Gary Gray, Vice President – Racing, Technology & Service for Indian Motorcycle. "In round two, we all saw a classic Mees performance, as he came back with a chip on his shoulder. He knew he could have his way with this track, and that's exactly what he did.  For Jared, there's plenty of racing to make a run at this year's championship, but he knows each race is extremely critical."
Round two saw Mees return with a vengeance and lead all but the first lap from the Main event.  While the line changed dramatically throughout the weekend, Mees smartly adjusted to optimize traction. His best decision came when he took the high line allowing him to pass multiple riders and put him out in front, ultimately leading the way through the checkered flag.
Following the doubleheader at Weedsport Speedway, Bauman maintains his lead with 197, while Mees sits in second with 175 points. Indian Motorcycle privateer Brandon Robinson is third with 168 points.
The 2021 AFT season continues August 21 at the Peoria Motorcycle Club for the Law Tigers Peoria TT. For more information on Indian Motorcycle Racing and the Indian Wrecking Crew, visit IndianMotorcycle.com or follow along on Facebook, Twitter & Instagram.
ABOUT INDIAN MOTORCYCLE®
Indian Motorcycle is America's First Motorcycle Company®. Founded in 1901, Indian Motorcycle has won the hearts of motorcyclists around the world and earned distinction as one of America's most legendary and iconic brands through unrivaled racing dominance, engineering prowess and countless innovations and industry firsts. Today that heritage and passion is reignited under new brand stewardship. To learn more, please visit www.indianmotorcycle.com.