KOPP SECURES A FIGHTING TOP-FIVE AT THE BLACK HILLS HALF-MILE
 
Red Bull KTM Factory Racing – Black Hills Half-Mile
RAPID CITY, S.D. – Round 11 of the 2022 American Flat Track Championship was a mixed bag of results for the Red Bull KTM Factory Racing team, who fought hard to get through Saturday's Black Hills Half-Mile in Rapid City, South Dakota. AFT Singles championship points leader, Kody Kopp, made a strong fifth-place comeback in the Main Event after a challenging start to the day; while teammate Max Whale salvaged seventh after battling track conditions throughout the evening.
It was an uncharacteristic start to the day for Kopp, who found himself a little off-pace early on with an eighth-place qualifying position in the class. Lining up alongside his teammate Whale in Semi 2, Kopp powered his KTM 450 SX-F to a top-five start. Racing in the fifth-place battle for the majority of laps, Kopp made a mistake that nearly resulted in a crash and he ultimately dropped back to a seventh-place finish. With a last-row start-position in the Main Event, Kopp had his work cut out for him off the start but he swiftly made his way up to 11th by the end of lap one. Putting on a charge through the second half of the race, Kopp dove into top-five contention late in the race and he was able to make a pass stick on the final lap to secure a fighting top-five at the half-mile.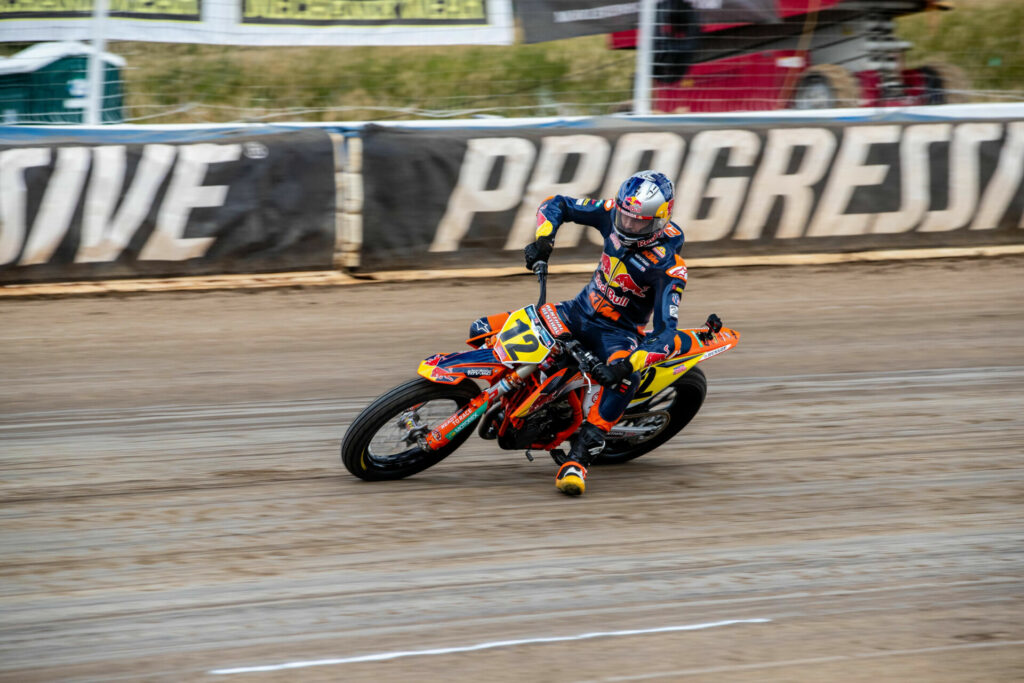 Kody Kopp: "They say you win championships on your worst days and I feel like we made the best out of what possibly could have been a terrible finish. We didn't qualify the best and I just wasn't gelling with the track. I got fired up because I had a back row start for the Main Event – I think I had grid pick 14 or 15 – and I went to work and passed 10 guys to end up P5. It's our worst finish of the year but given the circumstances, I'm pretty happy with a fifth-place finish and we live to fight another day and only lost a few points."
Whale, the second-place qualifier, had a strong start to the day after coming away from his first victory of the season last weekend in Peoria. The Aussie had a great jump off the line in Semi 2 and he claimed the early race lead aboard his KTM 450 SX-F. Holding strong out front for the first four laps, Whale ended up getting passed midway through and he maintained a solid pace to finish second. After grabbing the Main Event holeshot, things were looking strong for Whale as he led the way on the opening lap. However, he lost his momentum early in the race, dropping back to eighth midway through, and it took him several laps to get back into a groove. Late in the race, Whale made a push to overtake seventh and that's where he ultimately finished for the night.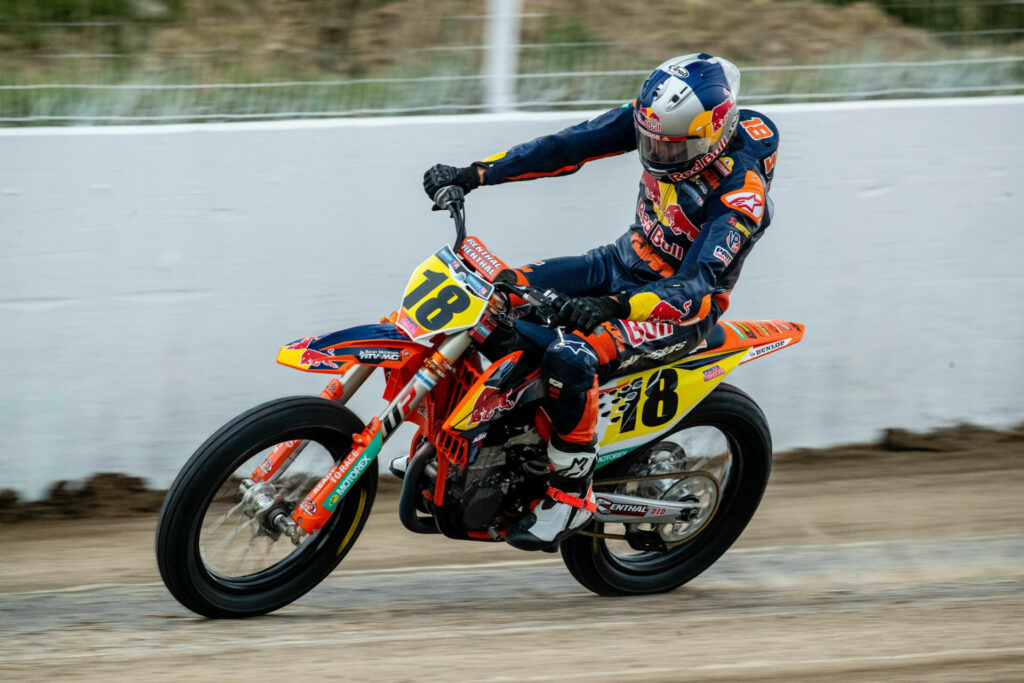 Max Whale: "I started the day off really well with second overall in practice and second in my semi, so we definitely had some speed early on. I had a battle for the lead and felt really good leading half of it. For the Main Event, we did a few changes and it definitely wasn't the right way to go. The track went away from us and we didn't think it was going to go the way it did – it got super slick – and I just really struggled. I started in the front row and faded back to seventh. It was super hard for me because I haven't faded like that in a long time, but I really want to thank the whole team for everything they do."
Next Race: Castle Rock TT – Castle Rock, Washington – August 13, 2022
Round 11 Results – Black Hills Half-Mile
 
AFT Singles Main Event
1. Trevor Brunner, Yamaha
2. Morgen Mischler, Honda
3. Trent Lowe, Honda
OTHER KTM
5. Kody Kopp, Red Bull KTM Factory Racing 
7. Max Whale, Red Bull KTM Factory Racing 
8. James Ott, KTM
12. Hunter Bauer, KTM

AFT Singles Point Standings (After Round 11)
1. Kody Kopp, 234 points
2. Morgen Mischler, 190
3. Dalton Gauthier, 160
OTHER KTM
5. Max Whale, 156
8. James Ott, 90
9. Hunter Bauer, 74
14. Travis Petton IV, 52