Estenson Racing Makes History with Yamaha Atlanta Super TT Sweep
Estenson Racing was unbeatable at last night's Yamaha Atlanta Super TT, making history as the first team and manufacturer to win every class at a Progressive American Flat Track round. JD Beach put on a masterclass performance to win the Mission SuperTwins Main Event. Dallas Daniels completed the sweep at Atlanta Motor Speedway with a stunning two-category double, first in the AFT Production Twins class and then shortly after, in AFT Singles, where he was joined on the podium by teammate Mikey Rush for a stellar 1-2 finish. Kolby Carlile also had a top night, earning a career-best Mission SuperTwins finish in fifth.
Even in the premier Mission SuperTwins category, Beach was in a class of his own all weekend long at Atlanta. Fastest by a significant margin from the opening session, he proved untouchable aboard his Yamaha MT-07 DT right through to the checkered flag in the Main Event. The runaway victory was Beach's third in the premier class, three out of four of the series' most recent TTs. After earlier securing a runner-up result at the Volusia Half-Mile season opener, the win furthered his claim as a legitimate class contender in 2021 as he moved into the points lead.
Carlile flashed podium-caliber speed in Atlanta as well, qualifying third fastest. A tough outing in his Semi ultimately put that beyond his reach, but the 2017 AFT Singles Champion still managed to come through the pack from 11th to fifth.
Like Beach, Daniels showed strength straight away and in both classes. The prodigious 17-year-old was absolutely dominant in his AFT Production Twins debut, leading every session en route to his first victory on the Yamaha MT-07 DT. Daniels then backed that up with a clutch victory in AFT Singles class.
Even if Daniels had faltered, teammate Rush would have completed the sweep in his stead. After winning his Semi, the Californian grabbed the holeshot in the Main Event with Daniels right behind him, but the race was red-flagged after a crash on the first lap. This time around, the reigning AFT Singles Champion got the flying start with Rush in third. Daniels rode a smart race up front, putting the pressure on the competition. In the final four laps, Rush moved into second for the team's second double podium of the season. The pair also sit 1-2 in the championship standings, with Daniels holding a three-point advantage over his teammate.
Estenson Racing will look to translate its momentum into continued top results when the series picks back up again at Texas Motor Speedway for the Texas Half-Mile on May 22.
Tommy Hayden – Estenson Racing Team Manager
"What an incredible night at the Atlanta Super TT for Estenson Racing. So many things have to go right to have a night like we did tonight, and fortunately, they did for us. All of our riders were on point all day. I could go on and on about how well all four of them rode tonight, but I want to say thanks to all of our crew members; each one of them played a role in this special night. To dominate all three classes at the event that Yamaha sponsored, and to leave here with the points lead in AFT Singles and the SuperTwins class, it's just a night you dream of."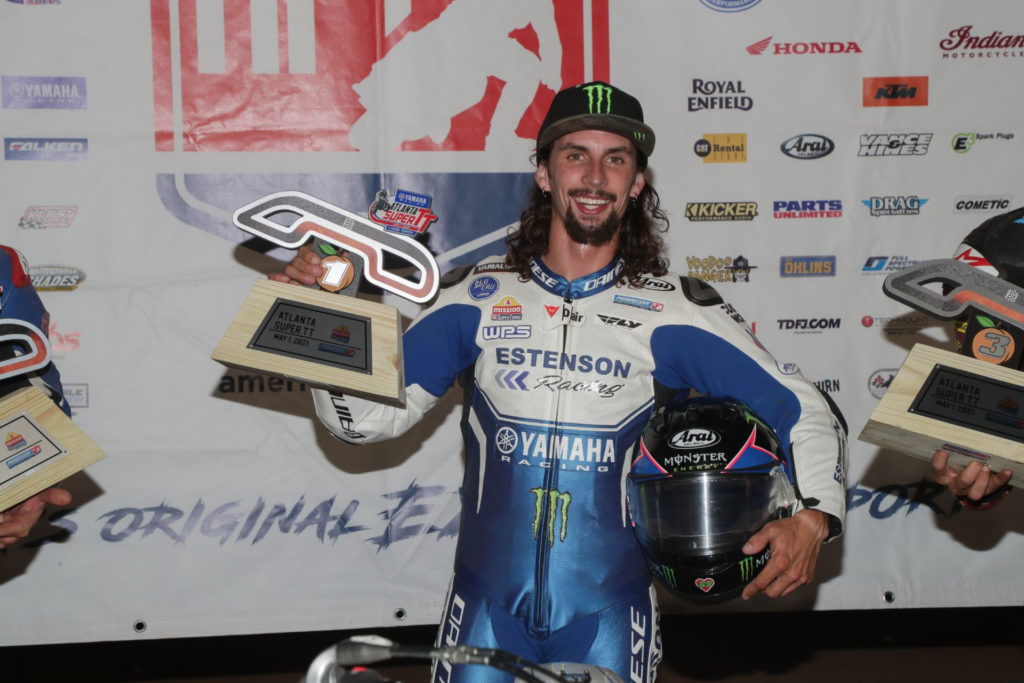 JD Beach – Estenson Racing Mission SuperTwins
"Tonight couldn't have gone any better. It was a dream night not only for myself but for the whole team. We swept all the classes, which is amazing. For me, after the win, it was almost more of a relief than excitement. After leading the whole test day, then leading everything today, I felt like I had a huge weight on my shoulders. So it's awesome to get a win and leave with the points lead. We still have a lot of work to do for oval tracks, but we are getting there."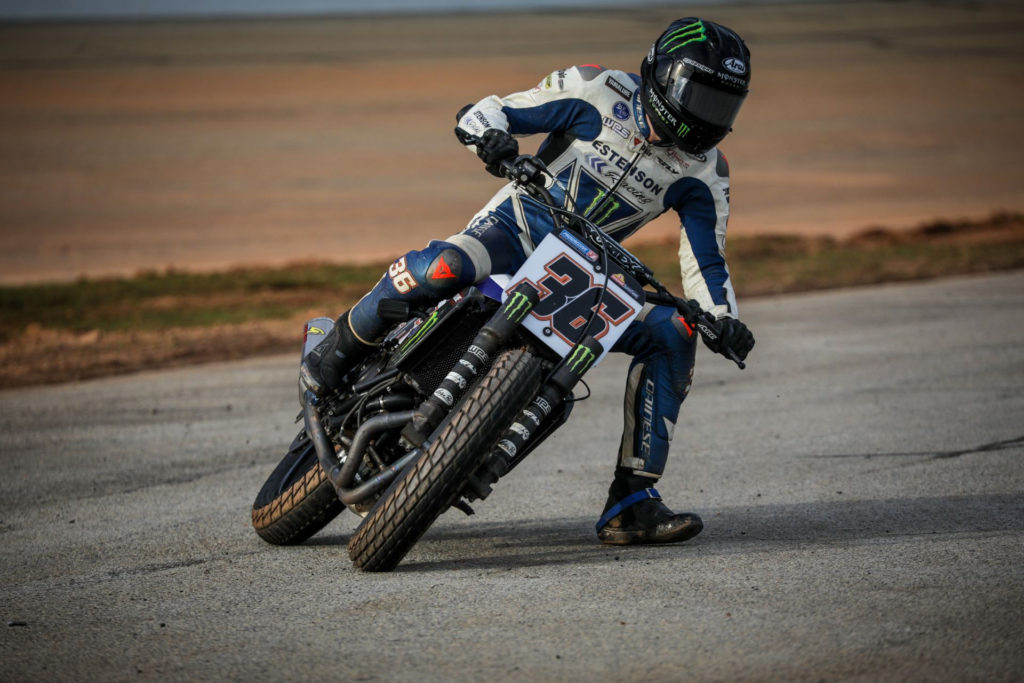 Kolby Carlile – Estenson Racing Mission SuperTwins
"I had a good two days here in Atlanta. I was second fastest in almost every practice and qualified third overall. Going into my Semi, I was pretty nervous starting second and I didn't get the best start and made a quick mistake, putting me to the back of the pack. Going into the Main Event I had no pressure and just put in 20 solid laps, coming from 11th to 5th. I'm happy with that performance. I just need to iron out some details, and I will be finishing where my speed shows I can be."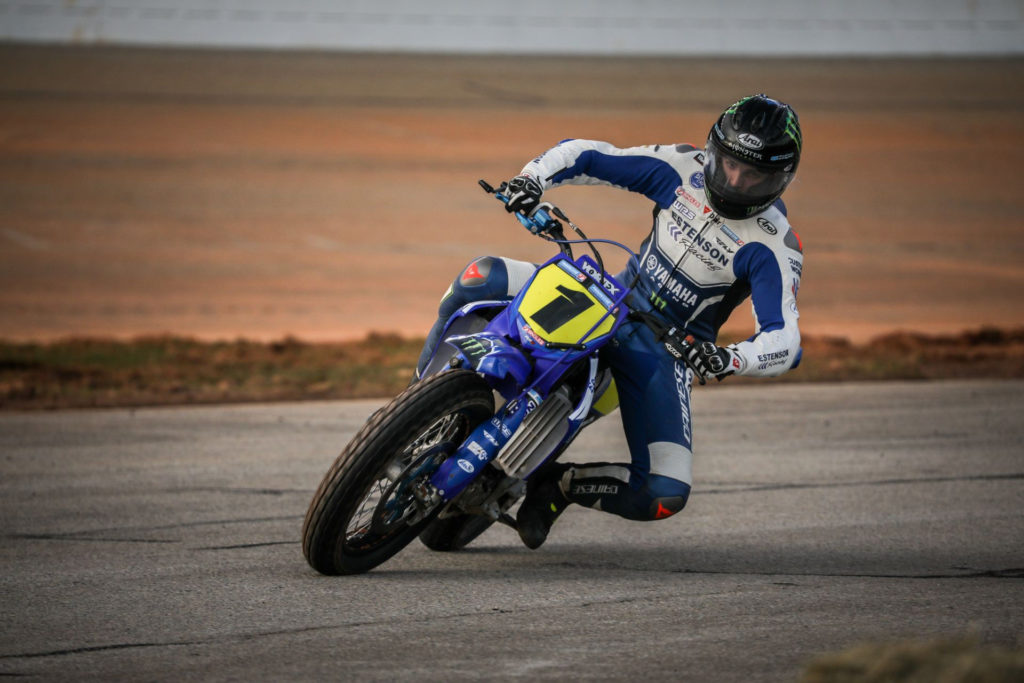 Dallas Daniels – Estenson Racing AFT Singles and AFT Production Twins
"It was a really good night here at the Atlanta TT. Obviously, it couldn't have gone any better. It was just a dream night for the team, winning every class for Estenson Racing. The day started out awesome. As soon as we got on the twin, we were fastest in every session on the track, won the Semi and the Main Event. It was just an amazing day on the twin. On the 450, I kind of struggled a little bit in the Semi and got second to Ferran (Cardus). I'm not going to lie, I was a little nervous  going into the weekend and thinking about racing both classes; I didn't want to mess up. I have to give a big thanks to the team. We're sitting good in the AFT Singles points right now, and we're hoping to keep it going."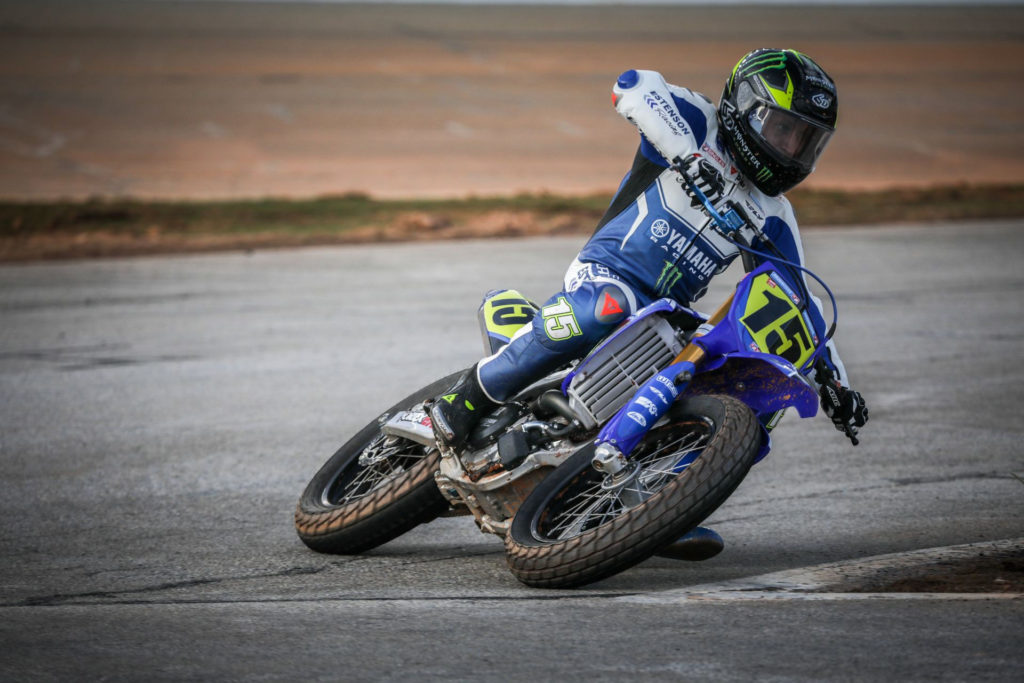 Mikey Rush – Estenson Racing AFT Singles
"I'm pumped to get another second-place finish this weekend at Atlanta Motor Speedway. It was an awesome track, and I really enjoyed racing it. I'm also stoked that my teammate Dallas and I went 1-2, getting both YZ450Fs on the box at Yamaha's home race. Being a part of the Estenson Racing crew and Yamaha is awesome. They give me a great bike week-in and week-out, and I'm looking to carry this momentum into Texas in a few weeks and the rest of the season. I'm so proud of the whole team this weekend. We all work so hard. It was just a great weekend. I had a blast!"
More, from a press release issued by KTM:
RED BULL KTM'S MAX WHALE FINISHES JUST OFF THE PODIUM AT ATLANTA SUPER TT
Round 3 – American Flat Track Championship – May 2, 2021
ATLANTA, Ga. – Red Bull KTM Factory Racing's Max Whale finished just shy of the AFT Singles podium on Saturday with a hard-fought fourth-place at Round 3 of the 2021 American Flat Track Championship. Motorsport icon, Travis Pastrana, made a guest appearance at the Atlanta Super TT alongside the Red Bull KTM squad where he scored an impressive ninth-place in the AFT Singles class aboard the KTM 450 SX-F FACTORY EDITION.
Whale, who qualified sixth with a competitive lap time in the singles division, set himself up for a favorable day of racing as he lined up on the front row of AFT Singles Semi 2. He powered his KTM 450 SX-F FACTORY EDITION off the line and into third on the opening lap, where he battled for most of the race. With three laps to go, Whale clicked it up a notch to overtake second as he laid down blazing fast lap times to finish second in the semi.
Following a red-flag restart in the Main Event, Whale got off to a fifth-place start and battled inside the top-five for the first half of the race. The Australian native was able to make his way into fourth at the halfway mark and from there he maintained a steady pace to finish just shy of the podium in fourth.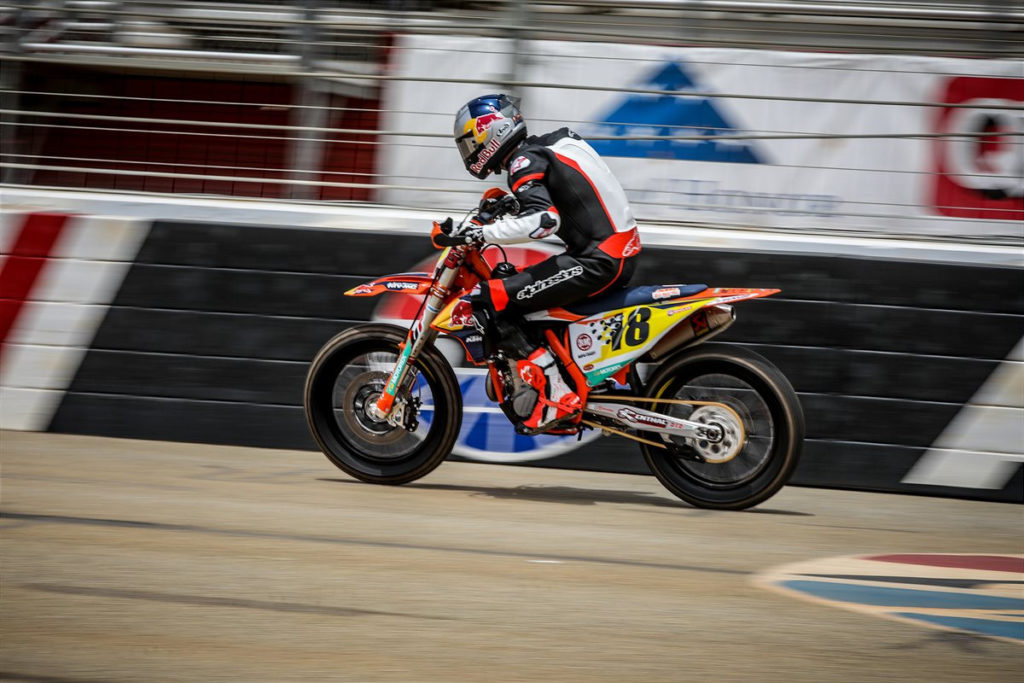 Whale: "What an awesome weekend Atlanta was! It was super fun having Travis Pastrana, Ryan Sipes and Shayna Texter as teammates all weekend. I feel like I had good speed but the first couple laps I got pushed around and dropped back a few positions but I passed a few people and ended up fourth. I feel like I had pace to run with the front three but it was too little too late and I couldn't catch them quick enough. I just want to thank everyone who helps me out, the whole Red Bull KTM team worked really hard all weekend and it's much appreciated."
Coming off a 1-1 sweep at the opening rounds, Shayna Texter-Bauman had a challenging day at the Atlanta Super TT. She made it through qualifying to line up in AFT Singles Semi 2 but she didn't get the start she was looking for and wasn't able to make her way through the field to claim a transfer into the Main Event. Despite missing the main, Texter-Bauman still maintains third overall in the championship standings with two Main Event wins in the first three rounds.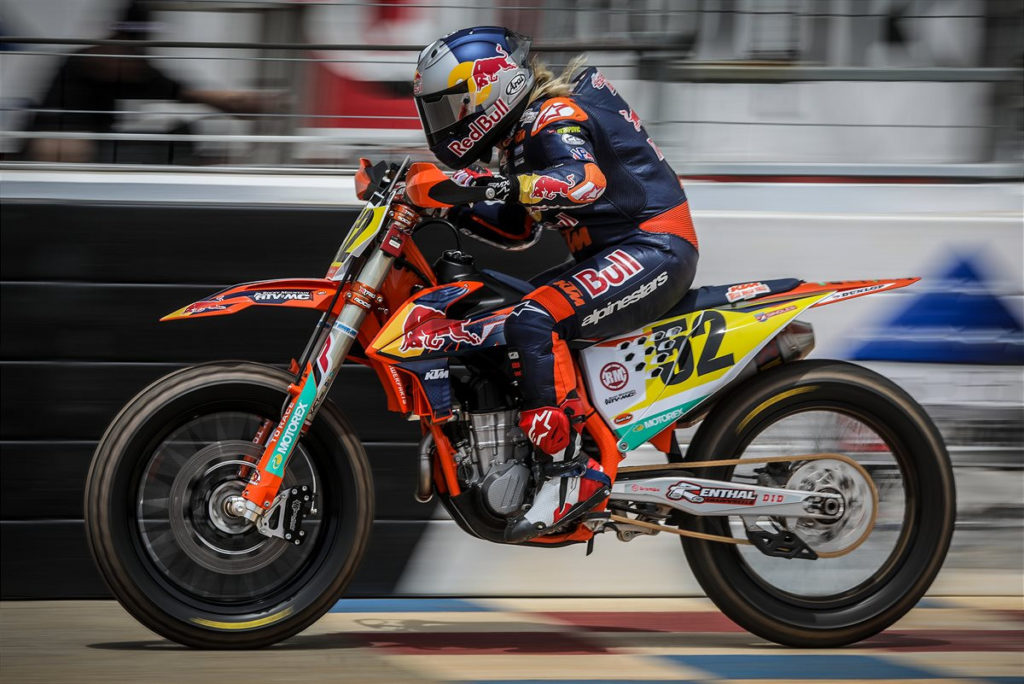 Texter-Bauman: "It was a challenging night for myself as I failed to qualify for the Main Event. This TT track was a bit unique to our sport for TT racing in particular because they added an asphalt section to the track. I felt really good on the asphalt but I was really struggling myself in the dirt section. The Georgia red clay as we saw in Supercross was very hard to find a consistent base and we battled rough-dry-slick conditions all night long. We will regroup tomorrow with some oval testing and be ready to come out strong in Texas in a couple weeks."
As part of his weekend racing extravaganza, Travis Pastrana lined up in the AFT Singles Class for Round 3 aboard the iconic #199 KTM 450 SX-F FACTORY EDITION to try his hand at a different discipline of racing. Pastrana came away with a respectable ninth-place finish in the Main Event after battling inside the top-10 throughout the day. Pastrana was a welcomed addition to the team for the weekend as he demonstrated his ability to be ready to race at any time, any place.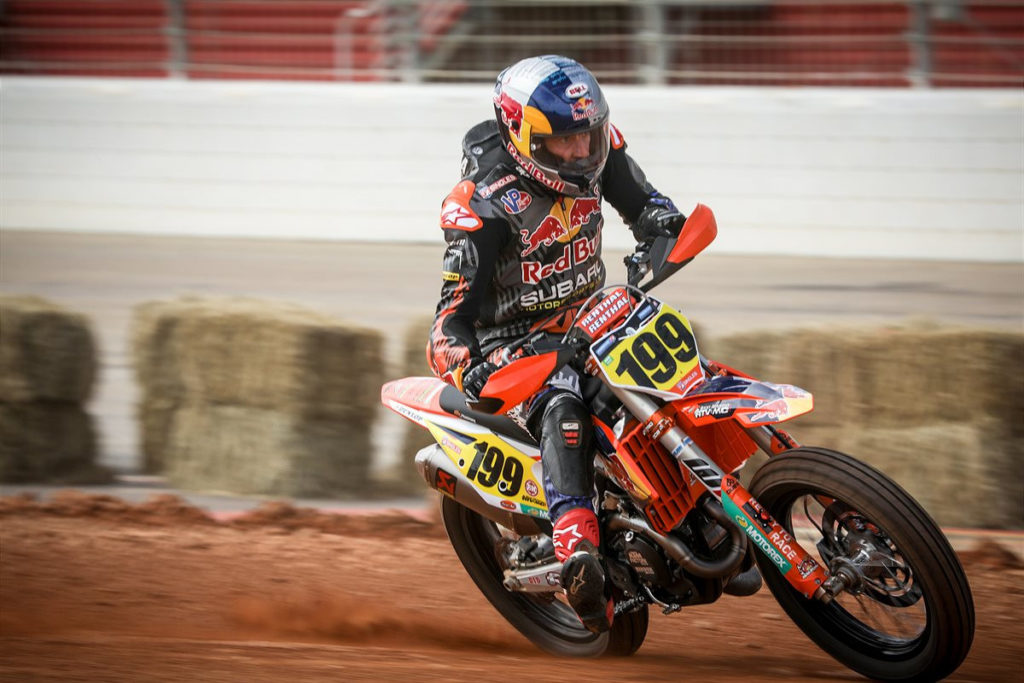 Pastrana: "It was an epic day of fun here in Atlanta. The KTM was by far the fastest 450 I've ever ridden and a huge advantage on the field and I had a blast trying to figure everything out. I brought my mechanic Ron with me to help out but besides bleeding the front brake a few times, we didn't touch anything all weekend. I wish I could have finished one spot higher and been in front of [Ryan] Sipes but I was really happy to make the main and get a top-10 result. I need some practice using the metal shoe and being consistent with my slides but maybe the chance will come up to ride another TT in the future."
Next Race: Texas Half-Mile – Fort Worth, Texas – May 22, 2021
AFT Singles Main Event – Atlanta Super TT
1. Dallas Daniels, YAM
2. Michael Rush, YAM
3. Ferran Cardus, HON
4. Max Whale, Red Bull KTM Factory Racing
OTHER KTM
9. Travis Pastrana, KTM
17. Aiden RoosEvans, KTM

AFT Singles Point Standings (After Round 3)
1. Dallas Daniels, 60 points
2. Michael Rush, 57
3. Shayna Texter-Bauman, 50
4. Max Whale, 43
More, from a press release issued by Royal Enfield North America:
Moto Anatomy x Royal Enfield Rider Johnny Lewis Captures Fifth Place at Atlanta  
Lewis charged from the back of the field after first lap incident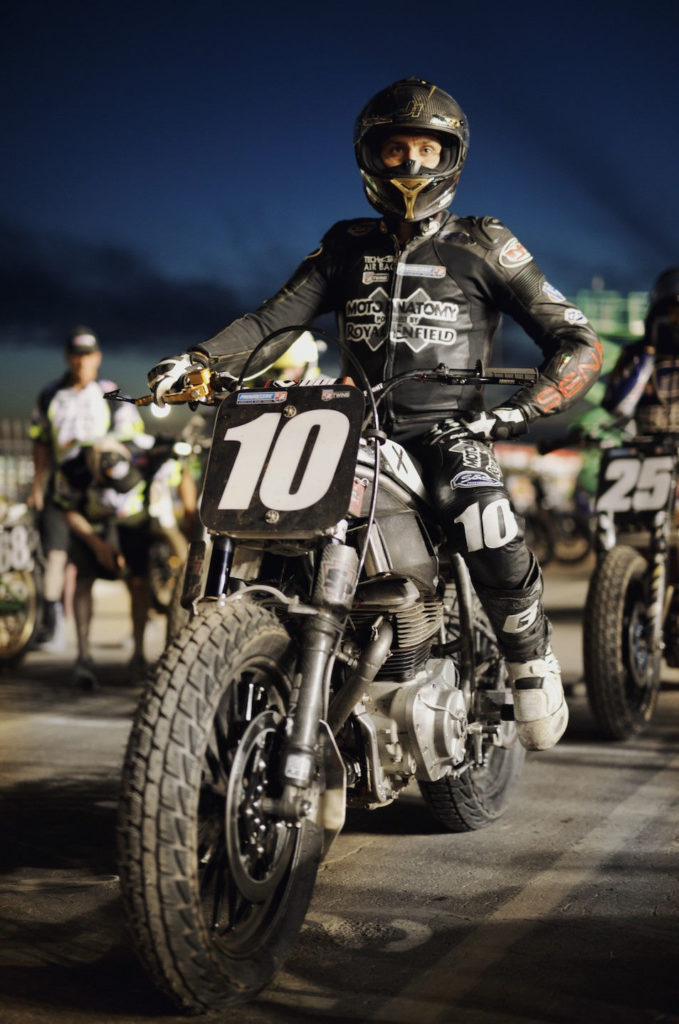 Atlanta, GA: Moto Anatomy x Royal Enfield rider Johnny Lewis captured fifth place during the American Flat Track (AFT) Atlanta Super TT at Atlanta Motor Speedway. Lewis was fast all weekend and despite a crash on the first lap that forced him to start from the back of the field, Lewis made quick work of the back half of the field and settled into fifth. The top five finish showcases the development work the team has done since the opening round in Volusia.
The Super TT format played well into Moto Anatomy X Royal Enfield rider's strengths, as Lewis is an accomplished supermoto rider and rides motocross regularly as part of his training. During the opening lap, Lewis made a strong start, but high-sided coming out of the first corner, breaking his helmet visor and inflating his airbag suit. After the field was red-flagged, Lewis was able to regroup and rejoin the race at the back of the field.
"We showed great speed all weekend, but the incident on the first lap meant we had our work cut out for us," said Moto Anatomy x Royal Enfield rider Johnny Lewis. "The team has been working extremely hard since Volusia. David and Bryan Lloyd along with the rest of the team have put in long hours to get more power out of the Twins FT. We ran at the top of the field all weekend and feel great about the progress we've made. Obviously, we had hoped for a podium result but that's racing."
The Atlanta Super TT course utilized both the front straightaway of the NASCAR oval and portions of dirt in the infield grass. The track made for great racing action and Lewis was running in the top two during practice and qualifying, then won his semi-final race in convincing fashion. The fifth-place finish and the speed shown by Lewis all weekend highlights the behind-the-scenes work the team continues to do in search of furthering the performance of the Twins FT package.
The American Flat Track season will return on May 22 at Texas Motor Speedway for the Mission Foods Texas Half Mile Presented by Roof Systems. Lewis will look to take the momentum from his fifth-place finish into the next round in Texas.
During the race weekend, the Get On! Moto Show will also take place around the speedway, with demo rides, custom bike displays, music, food and more Friday through Sunday. Johnny Lewis will also be hosting a Royal Enfield Slide School powered by Moto Anatomy that weekend as well.
To learn more, visit Get On! Moto Show or purchase tickets directly at AmericanFlatTrack.com.
Be sure to follow @MotoAnatomyxRoyalEnfield on Instagram to stay up to date on the latest results and insights from the track. The team will continue to release short films documenting each round, which can be seen on Royal Enfield North America's YouTube channel throughout the season.
About Royal Enfield
The oldest motorcycle company in continuous production in the world, Royal Enfield made its first motorcycle in 1901. A division of Eicher Motors Limited, Royal Enfield has created the mid-size motorcycle segment in India with its unique and distinctive modern classic motorcycles. With its manufacturing base in Chennai, India, Royal Enfield has been able to grow its production rapidly against a surge in demand for its motorcycles. Royal Enfield is a leading player in the global middleweight motorcycle market.
Royal Enfield North America (RENA) is headquartered in Milwaukee, Wisconsin, and is developing a growing network of more than 125 dealers in North America, including the U.S., Canada, and Puerto Rico. RENA currently offers the Himalayan, Meteor 350 and the 650 Twins: INT 650 and Continental GT 650 motorcycles along with a range of genuine motorcycle accessories and apparel.
The Moto Anatomy x Royal Enfield team is supported by Harris Performance, SENA, Spectro Oils, Beringer Brakes, Solid Performance, EVS, ODI, Just 1, Tucker, Saddlemen, S&S Cycle, Team Lawant, Quayle Construction and Goon Glass and Rubber.
For more information on Royal Enfield North America, please visit www.RoyalEnfield.com/us/en/, www.Instagram.com/RoyalEnfield_NA, www.Facebook.com/RoyalEnfieldNorthAmerica.