Biltwell to Co-Sponsor AMA Vintage Motorcycle Days Swap Meet
Largest swap meet in North America features 35 acres of motorcycles and parts
PICKERINGTON, Ohio — Biltwell — a motorcycle parts, helmets, gear and apparel company — is co-sponsoring the largest swap meet in North America, which will be held at AMA Vintage Motorcycle Days, presented by Royal Enfield, July 23-25 at the Mid-Ohio Sports Car Course in Lexington, Ohio.
"After the cluster known as 2020," said Biltwell's self-proclaimed Administrator of Good Times Otto Deutsch, "we're more excited than ever to see friends we've missed and, of course, partake in one of the best grassroots motorcycle events around. With over 800 vendors, this swap meet is one of the best in the nation, and onsite camping sure makes hanging with buds and partying a lot safer and easier. We're really looking forward to this great event."
The AMA Vintage Motorcycle Days swap meet features over 800 vendor spaces across 35 acres during the three-day event. VMD attracts vintage motorcycle enthusiasts from across the U.S., bringing together the most eclectic collection of used motorcycles and parts for sale in the country.
"It's great to have Biltwell on board as a sponsor of the swap meet as in previous years," said AMA Editorial Director Mitch Boehm. "We appreciate their support of the AMA and, specifically, for VMD. The swap meet is one of the coolest, with more bikes and parts than I've ever seen in one spot. We're glad to have them!"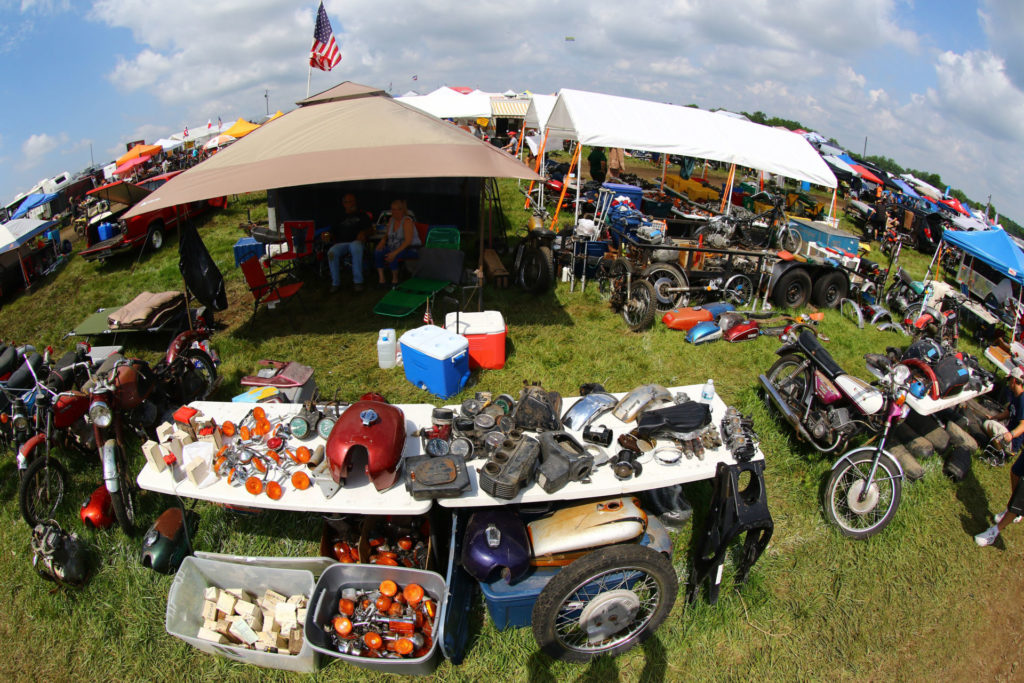 The 2021 AMA Vintage Motorcycle Days will feature an On Any Sunday theme, celebrating 50 years of Bruce Brown's epic moto documentary, with AMA Motorcycle Hall of Famer David Aldana — one of the film's legendary stars — serving as Grand Marshal. There will also be a special outdoor screening of the beloved film on Friday, July 23.
There's plenty of racing action for racers and fans, from road racing and motocross to cross-country, dirt track and trials — and much of it with an AMA Grand Championship flavor. Riders as young as age 4 are permitted to compete in motocross, while those 12 and up can ride in trials, dirt track and hare-scrambles events. Learn more and register today.
The event will also include all the vintage-oriented happenings that classic-bike fans love, including Hall of Fame activities, Wall of Death and vintage bike shows. Tickets are still available at midohio.com or can be purchased at the gate on the days of the event for an additional $10.
For more information on Biltwell, visit funtransport.com.
About the American Motorcyclist Association
Founded in 1924, the AMA is a not-for-profit member-based association whose mission is to promote the motorcycle lifestyle and protect the future of motorcycling. As the world's largest motorcycling rights and event sanctioning organization, the AMA advocates for riders' interests at all levels of government and sanctions thousands of competition and recreational events every year. The AMA also provides money-saving discounts on products and services for its members. Through the AMA Motorcycle Hall of Fame in Pickerington, Ohio, the AMA honors the heroes and heritage of motorcycling. For more information, visit americanmotorcyclist.com.
Not a member? Join the AMA today: americanmotorcyclist.com.