Chase Sexton Takes Detroit Supercross Win on Dramatic Race Night
Hunter Lawrence Stretches 250SX Class Lead with Fifth Win of 2023
Detroit, Mich. – Team Honda HRC's Chase Sexton won a Main Event filled with intense racing at Round 10 of the 17-round Monster Energy AMA Supercross indoor stadium season.
Red Bull KTM's Cooper Webb earned second place after the on-track battles had been settled in front of 49,817 race fans at Ford Field in Detroit. Monster Energy Yamaha Star Racing's Eli Tomac took home third place in a round that pays points for both the Supercross season and the inaugural SuperMotocross World Championship. In Round 6 of the Eastern Regional 250SX Class, Team Honda HRC's Hunter Lawrence took his fifth win of the season.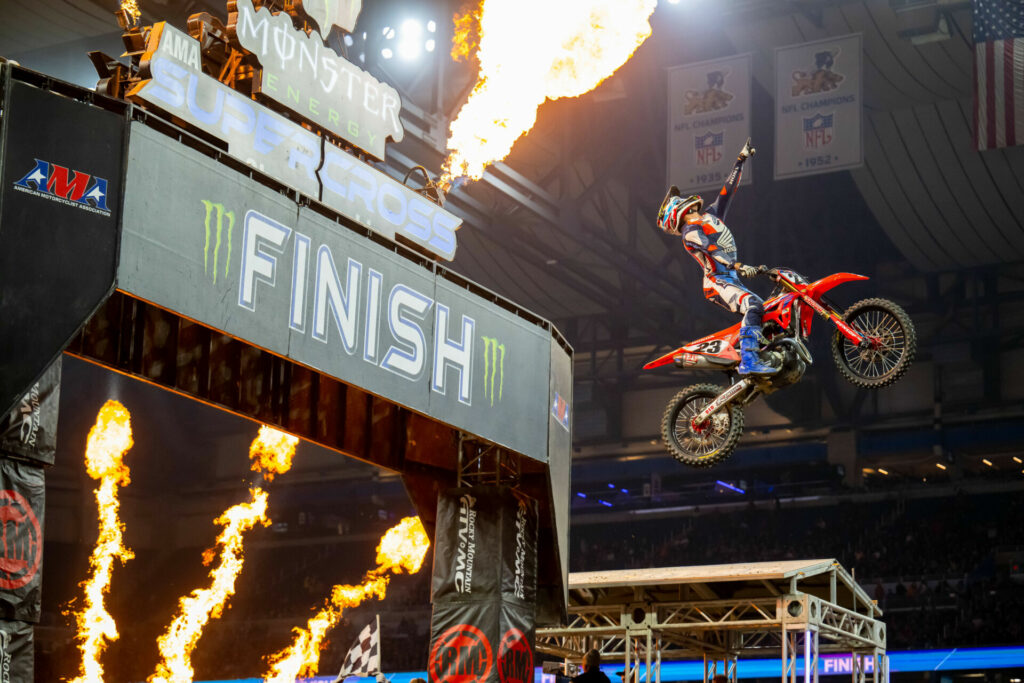 Red Bull KTM's Aaron Plessinger grabbed the holeshot in the 450SX Class Main Event but Monster Energy Kawasaki's Adam Cianciarulo shot past down the first rhythm lane to take over the front spot. Cooper Webb held third with Eli Tomac and Troy Lee Designs Red Bull GASGAS Factory Racing's Justin Barcia behind. One and a half minutes into the 20-minute plus one lap race Plessinger reclaimed the lead with a blitz through the whoops. At about that same time, last week's winner, Progressive Insurance ECSTAR Suzuki's Ken Roczen, reached sixth with Chase Sexton behind and on the move after a mid-pack start.
The racing was intense in the early laps with the front runners bunched up and trading positions back and forth. The only clear advantage was held by Plessinger. He'd only led a total of seven 450SX Class Main Event laps in his career prior to the Detroit gate drop, but as the points leaders battled behind him Plessinger pulled clear then steadily extended his lead. Five minutes into the race Plessinger was ahead by over three seconds. Tomac got around Webb for second while Barcia hounded to do the same and Sexton pushed to get around Barcia.
It seemed likely that the top three in points, Webb, Tomac, and Sexton, would break away and reel in Plessinger. But instead the KTM rider put even more real estate between himself and the pack while Barcia clawed his way up through it. Seven minutes into the race Barcia had reached second place and then set his sights on the win.
But then Sexton really went to work. Just after the race clock reached 11 minutes remaining, Sexton pushed past Webb to take third. A lap later he battled Barcia for second. The attack was quick, and Barcia's counter was immediate; the riders came together. Sexton stayed up yet the impact threw Barcia off pace enough that Webb got around at the end of the following section.
Plessinger's lead was over eight seconds and he looked untouchable. Meanwhile Tomac was working to hold fifth as Roczen was on his rear fender. Then Tomac got his own surge of speed and motored past Barcia to take over fourth place. Sexton gained on Plessinger only by tenths of a second as the race clock ticked down.
Plessinger held a comfortable lead when he made a critical and heartbreaking mistake. On the second-to-last lap of the race, he caught his foot on a rut and flew off the bike as it went airborne. Plessinger crashed hard, handing over what would have been his first 450SX Class win after leading the race for 20 laps.
Sexton took the win, his second of the season. Webb maintained the runner-up spot, and Tomac earned third place. The three points leaders on the race podium belied the thrills and twists of one of the most exciting races so far this season. After the race, Sexton was assessed a 7-point penalty for a red-cross-flag infraction, putting him seventeen points out of the title chase lead.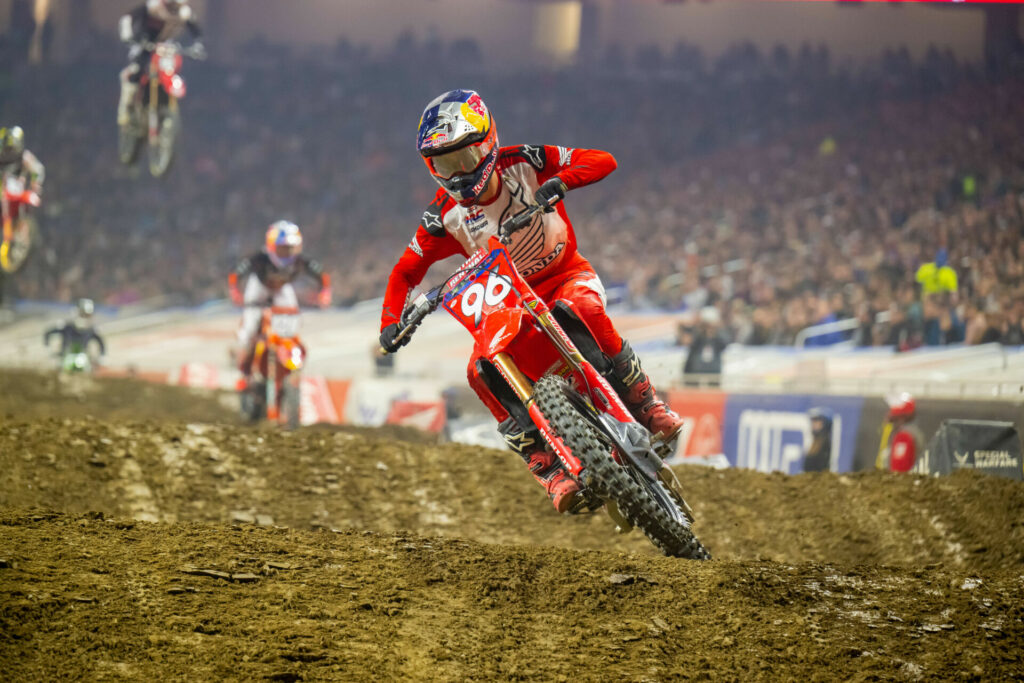 Round 6 of the Eastern Regional 250SX Class saw Monster Energy Yamaha Star Racing's Haiden Deegan grab the holeshot. Hunter Lawrence was quickly into the lead ahead of Muc-Off FXR ClubMX Yamaha's Jeremy Martin, Deegan, and Monster Energy Yamaha Star Racing's Nate Thrasher. Lawrence soon pulled a small gap on the pack. Thrasher was into third quickly and applied pressure to Martin. Martin held strong for several laps with Thrasher looking for an opportunity to pass.
Just over four minutes into the 15-minute plus one lap race Thrasher got around Martin. Thrasher put the hammer down and slowly cut the gap to Lawrence from 4.2 seconds down to 3.6. But when the race reached the midpoint Lawrence responded, pulled the gap back to over four seconds, and never allowed Thrasher to regain any significant ground. Behind them, Deegan moved past Martin to take over third place. Monster Energy Pro Circuit Kawasaki's Chris Blose held fifth at the checkers just ahead of Red Bull KTM's Tom Vialle.
Lawrence's win created some interesting statistics in comparison compared to his brother, Jett Lawrence. The two brothers are now tied on Supercross race starts, wins, and top five finishes. Hunter holds one more podium finish, yet Jett already holds a 250SX Class championship. The stats are especially interesting in that the brothers will race head-to-head twice this season in two upcoming East/West Showdown events.
The series returns to the west coast to drop the gate for Round 11 at Lumen Field in Seattle, Wash. The event pays points to both the Monster Energy Supercross season as well as to the brand-new SuperMotocross World Championship which culminates in two Playoff events and one Final event in September.
All 31 rounds of the SuperMotocross League are streamed live on Peacock; select rounds are also broadcast on NBC, USA Network, and CNBC. International viewers can catch the action at SuperMotocross.tv. For race highlight videos, the full 31-round SuperMotocross schedule, results, news, and ticket sales please go to SupercrossLIVE.com.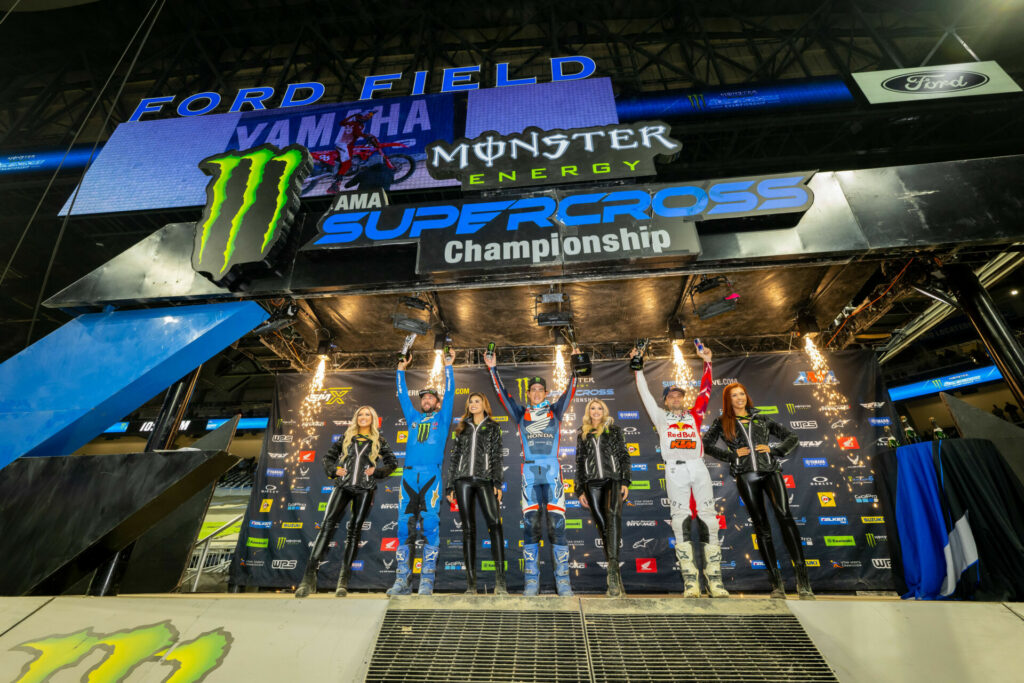 450SX Class Results
1. Chase Sexton, Clermont, Fla., Honda
2. Cooper Webb, Newport, N.C., KTM
3. Eli Tomac, Cortez, Colo., Yamaha
4. Justin Barcia, Greenville, Fla., GASGAS
5. Ken Roczen, Mattstedt, Ger., Suzuki
6. Christian Craig, Clermont, Fla., Husqvarna
7. Justin Hill, Yoncalla, Ore., KTM
8. Adam Cianciarulo, New Smyrna Beach, Fla., Kawasaki
9. Jason Anderson, Rio Rancho, N.Mex., Kawasaki
10. Josh Hill, Huntersville, NC, KTM
450SX Class Championship Standings
1. Cooper Webb, Newport, N.C., KTM (225)
2. Eli Tomac, Cortez, Colo., Yamaha (222)
3. Chase Sexton, Clermont, Fla., Honda (208)
4. Ken Roczen, Mattstedt, Ger., Suzuki (182)
5. Jason Anderson, Rio Rancho, N.Mex., Kawasaki (180)
6. Justin Barcia, Greenville, Fla., GASGAS (174)
7. Aaron Plessinger, Hamilton, Ohio, KTM (164)
8. Christian Craig, Clermont, Fla., Husqvarna (136)
9. Adam Cianciarulo, New Smyrna Beach, Fla., Kawasaki (107)
10. Justin Hill, Yoncalla, Ore., KTM (103)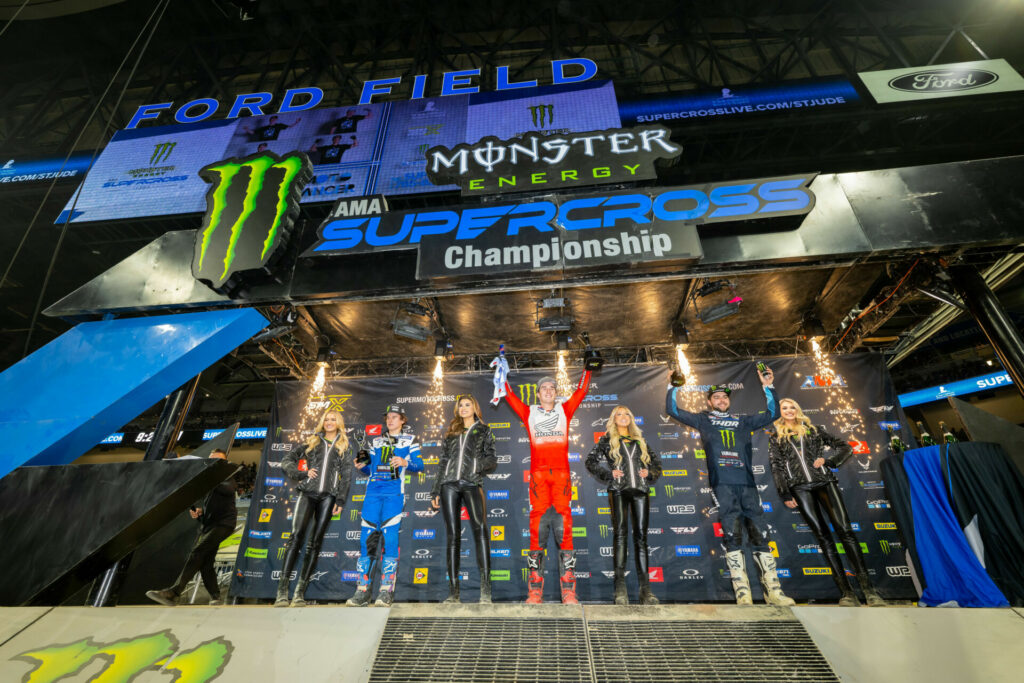 Eastern Regional 250SX Class Results
1. Hunter Lawrence, Landsborough, Aus., Honda
2. Nate Thrasher, Livingston, Tenn., Yamaha
3. Haiden Deegan, Tallahassee, Fla., Yamaha
4. Jeremy Martin, Rochester, Minn., Yamaha
5. Chris Blose, Phoenix, Ariz., Kawasaki
6. Tom Vialle, Avignon, France, KTM
7. Cullin Park, Clermont, Fla., Honda
8. Coty Schock, Dover, Del., Honda
9. Henry Miller, Rochester, Minn., Honda
10. Michael Hicks, Fenton, Mo., Honda
Eastern Regional 250SX Class Championship Standings
1. Hunter Lawrence, Landsborough, Aus., (151)
2. Nate Thrasher, Livingston, Tenn., Yamaha (116)
3. Haiden Deegan, Tallahassee, Fla., Yamaha (111)
4. Jeremy Martin, Rochester, Minn., Yamaha (109)
5. Max Anstie, Newbury, Eng., Honda (104)
6. Jordon Smith, Ochlocknee, Ga., Yamaha (92)
7. Chris Blose, Phoenix, Ariz., Kawasaki (88)
8. Tom Vialle, Avignon, France, KTM (85)
9. Coty Schock, Dover, Del., Honda (72)
10. Cullin Park, Clermont, Fla., Honda (67)