Quickest on a Harley to be AHRMA Drag Racing Grand Marshal
(Elora, Tennessee) A vintage drag racing legend also known as the "quickest man on an HD", Russell "Russ" Hendron will be the AHRMA Drag Racing Grand Marshal at the AHRMA Classic MotoFest in the Heartland to be held May 29th, 2021 at Heartland Motorsports Park, Topeka, Kansas.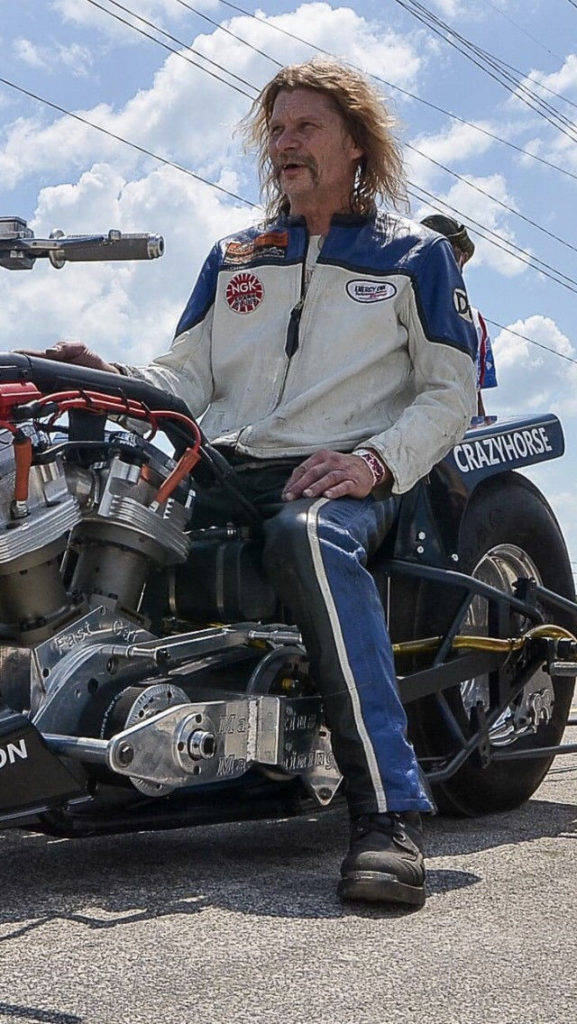 The event is part of the AHRMA Classic MotoFest® in the Heartland (May 28-30).
Hendron will make exhibition runs on his dual-engined Harley-Davidson "Black Betty" before racing head-to-head against the AHRMA Vintage Superbike road racing class champion later in the evening.
He will also be in the NHRA Winners Circle following the drag racing program to present trophies to each race winner and runner-up.
"We're really excited to have Russ Hendron be such an active Grand Marshall for our first classic drag racing event," said Arthur Kowitz, Chairman of the AHRMA Board of Trustees.  "He's not just going to be signing autographs and waving to the fans, he's actually going to be racing 'Black Beauty' for real.  Seeing and hearing that beast on the quarter-mile will be incredible."
"Black Betty" is a 192 cubic inch, twin-motored, nitro-methane Harley Davidson Ironhead owned by Ray Sender of American Air Cooled Motors out of Louisville, Kansas.
"This event is already a dream come true for me and with Russ stepping up to be Grand Marshal and race 'Black Betty,' too?  It's now even more awesome." said Luke Conner, who's Luke's Racecraft is the 2021 series sponsor.  "This is an incredible chance to see two drag racing icons, a rider and his bike, going at it against some unique competition.
Hendron personifies vintage drag racing. In 1983 he built his first nitro-powered Harley-Davidson drag racing motorcycle and began racing the following year.  He went on to win four consecutive AMRA/HDRA National Championships from 1987 through 1989. He is still active in nitro fuel drag racing working from his Crazyhorse Garage workshop in North Judson, Indiana.
For additional information regarding this event visit https://www.ahrma.org/classicdragracing
ABOUT AHRMA

AHRMA (American Historic Racing Motorcycle Association) is a not-for-profit organization dedicated to preserving, restoring and competing on historic motorcycles. With more than 3,000 members, AHRMA is the leading historic motorcycle racing group in North America and one of the largest in the world. The association's enthusiastic membership reflects this country's strong interest in classic bikes.
ABOUT VISIT TOPEKA
Visit Topeka, Inc. is the visitor's bureau for the capital city of Kansas. Visit Topeka's mission is to increase tourism's economic impact on Topeka through destination development and brand management. VisitTopeka.com