FIRST PERSON/OPINION:
My First Time On The Racetrack, Part 2
By Hiyori Yoshida
Chris Peris had told us he had leathers that we could borrow, but since I'm stupidly small, I knew no off-the-rack leathers would fit me. So Sam got me a custom-made, two-piece Vanson leather suit that I could wear on the street and the track. It's crazy, I know. I'd ridden maybe a total of five hours on the street and I already had my own leathers—Vanson at that! But that's what I mean when Sam makes sure I'm always prepared. So with my exquisitely fitted leathers, gloves, and a helmet and boots borrowed from Sam and Melissa, and 80 hours of dirt bike plus five hours of street riding experience, I ended up at Inde Motorsports Ranch in Tucson, Arizona.
Having ridden with Sam and Melissa, I may have been more well-prepared than any other young beginner street rider. But that didn't make me any less nervous. I had no idea what to expect. Would the R3 be big, bulky, jerky, too powerful? Would the track be filled with other racers getting pissed at a tiny girl wobbling around on the track? Would I crash as much as I did on dirt bikes?
Having no idea what kind of day we were getting into, Sam, Melissa and I bought water and snacks from a Safeway and sandwiches from Subway to make sure we'd be adequately fueled and ready to ride our best. So we were pleasantly surprised when we arrived at Inde and realized it was nicer than any other racetrack I'd ever been to. It has an air-conditioned garage to change and hang out in, rental houses, actual bathrooms, showers, a clubhouse, fancy food made-to-order, an airplane museum, and a beautiful secluded glass-walled hilltop patio with a personal firepit. And the entire track is surrounded by the vast expanses of Arizona desert, with beautiful rocky mountains soaring on the horizon, the sky wide open in all directions.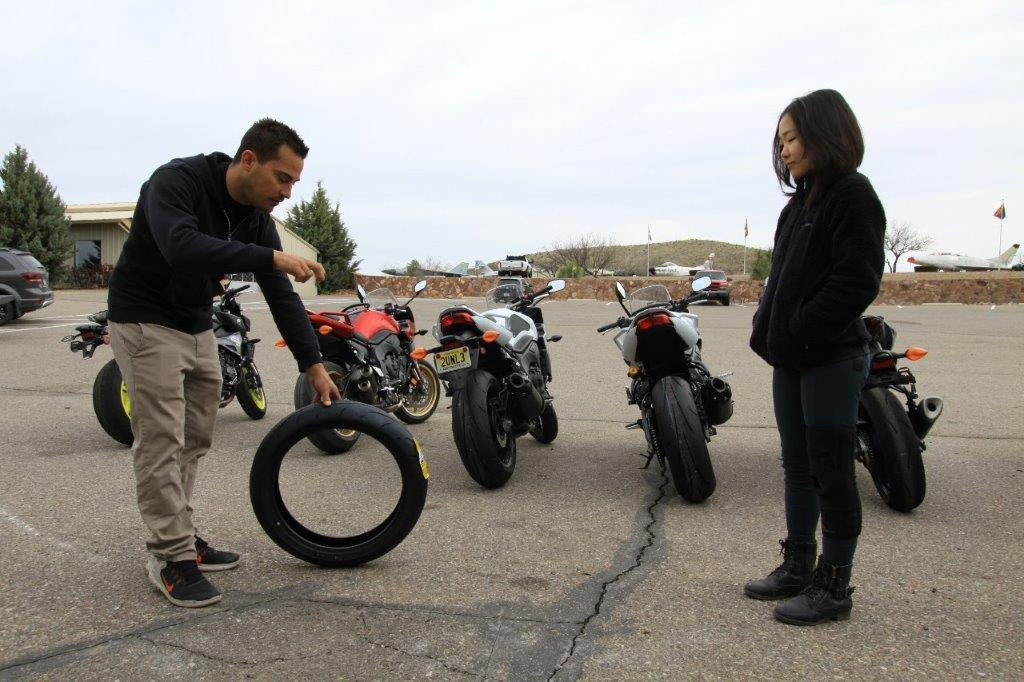 Chris Peris greeted us as old friends, hugging us and laughing, super excited that we were there. Chris first raced with AOD at age 16, after which he raced in AMA Supersport for two years, World Supersport for another two years, and AMA Superbike from age 20, until he finally returned to AOD, with which he has since won four championships, on top of the one when he was 16! He started teaching racing in 2010 and has been working as an instructor for the Yamaha Champions Racing School with Nick Ienatsch, who was his racing instructor since 2014, when Chris was 13.
While his energy, humor, and youthful enthusiasm make him seem like he could be in college, Chris definitely knows how to teach. Sam and Melissa had told me the basic to-dos, including braking before turns and accelerating at the apex. But I never quite grasped why such techniques make the bike handle better until Chris grabbed a tire to demonstrate. He physically pushed against the tire, showing me how braking and compressing the forks pushes the tire down, increasing the contact area and therefore, traction.
Chris then told us to hop into our rented Tahoe and proceeded to drive onto the track. He started out slow, pointing out turns and describing how he'd set up cones to help me learn how to align the bike parallel to the apex to maximize exit acceleration. On the second lap he started driving the Tahoe like a race car, showing me how to brake into turns, increase lean angle, then sacrifice lean angle to accelerate out once the car was directed out of the turn. The brake pads and tires reeked of burnt friction compound and tread rubber as we raced around the track. Suddenly, Chris stops and says, "OK, your turn!" I looked up in surprise. "Wait what?! I'm not ready! No one told me I'd be driving an SUV like a race car today!" I thought to myself as he jumped out of the driver's seat. I initially tried to steer around the turns like you would drive a normal car on a normal street, but by the second lap I got a feel for picking a line, braking gently into turns, lining up the car parallel to the apex, and accelerating out.
Once we got back from driving on the track, we suited up. I was glad I had all the gear, since that was one less thing to worry about. I felt comfortable in gear that I knew was good, and after Chris's demonstration and getting a chance to test out his tips in the car, I felt more confident than I had that morning. But my heart was still racing. I nervously swung my leg over the R3, expecting it to be heavy, bulky, and too big for me (as most bikes are). But to my pleasant surprise, I could reach both toes to the ground! Although I knew I'd never put my feet down on the track, the fact that the bike was small enough that I could reach the ground made me feel less intimidated. As I reached for the throttle and clutch, hugging the gas tank, I was happy that the R3 was narrow and sleek, just like my KTM.
I followed Chris out of the pits for my first motorcycle ride on a racetrack. The track felt spacious, and to my great relief, Chris, Sam, Melissa and I had it all to ourselves. I felt nimble and free on the narrow R3 compared to lugging around in the Tahoe. I awkwardly maneuvered the bike through the first few turns as I subconsciously moved to the outside of the seat, pushing the bike down into the turns like a dirt bike. But as I noticed what my body was doing out of habit, I corrected myself and attempted to mimic Chris's body position, hanging my body off the inside and looking out toward my shoulder into the turns. As I began to pick up more and more speed each time we went on the straightaway, I figured out that I needed to rev the engine super high (unlike dirt bikes) to be able to speed-shift. As I blipped the throttle and shifted into 4th and then into 5th gear, the engine reaching 13,000 rpm under me, and I felt almost like a badass racer.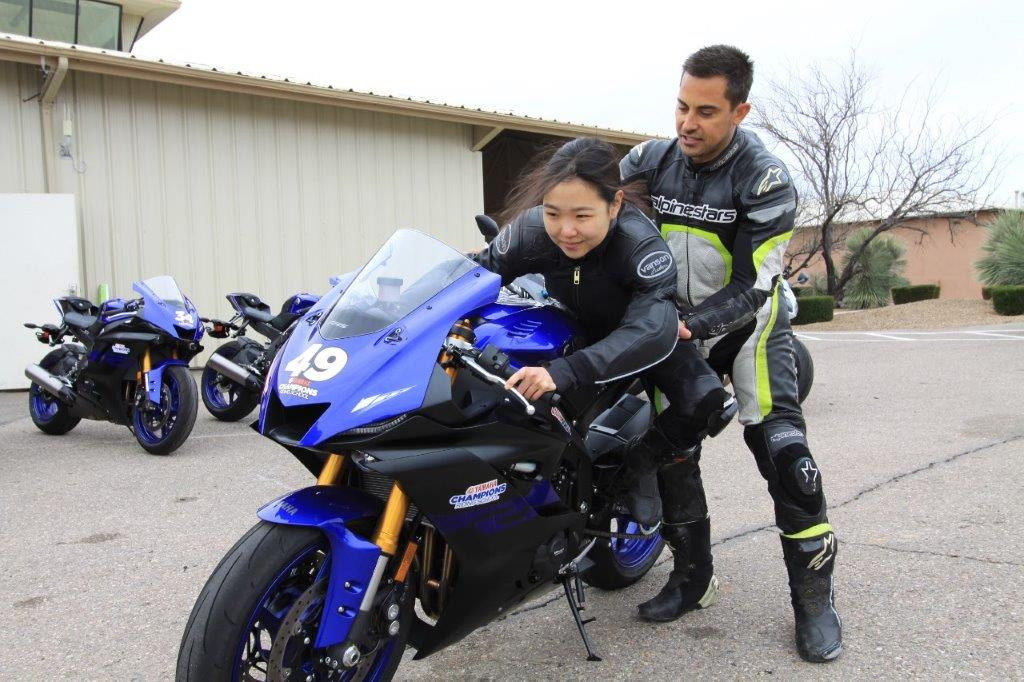 Before our second session on the track, Chris taught me body position. He first made me feel how my weight shifted on my toes as I stood on the ground and leaned my upper body to either side. He then made me sit on the bike. Inside butt off the seat. Knee out. Toe out. Ball of my foot on the footpeg. Ankle up with my knee against the gas tank. Lean into the turn. Inside shoulder open out towards the turn. Outer forearm straight against the gas tank. Fingers pointed away from the turn. Push the inner thigh of outside leg against the gas tank. Engage my abs. Relax my hands. Trying to remember all of this on top of everything I had just learned (choosing a line, braking, turning, getting direction, accelerating), I felt like there were a million things I had to feel and do simultaneously on the bike. When we went back out onto the track, I forgot many things at each turn. But each time, I remembered something else—"oh, don't forget butt off the seat! Oh wait, also shoulder open!"—and tried to add that onto the list of things I was doing with my body and the bike in the next turn. Every time I did something right, I could see Chris giving me a thumbs up ahead of me.
After lunch in a civilized café at the track, the moment I had been hoping for came. Chris was going to show me what it's like to actually race on a track, with me on the back of his motorcycle for a two-up ride. The first lap was fast but more peaceful than I thought it would be. I held onto the handles on the gas tank, turning my head into turns. It felt a lot like riding on the back of Sam's FZ1 during our West Virginia street rides. But then Chris started picking up more and more speed. I felt my whole body being thrown backward, my head shoved back by the 145 mph wind as he sped down the straightaway. As he braked for the first turn, my whole body was thrown forward and I pushed as hard as I could against the gas tank, harder in those two seconds than I had throughout the earlier three sessions. The best part was when he accelerated over a small hill. I felt my heart jump into my throat while my brain was knocked around and squeezed in my helmet. The feeling of my insides flying around inside me was just like on a free-fall on a roller coaster, except we were going forward at immense speeds rather than downward. Sam had always described the exhilaration of "pulling Gs" on the racetrack, and I finally understood. And even though my body felt like it was being thrown around the racetrack in a whirlwind, I could tell Chris was still 100% under control. He braked for each turn, carefully increasing the tension on the brakes, aligning us parallel to the apex so he could open the throttle straight out of the turn.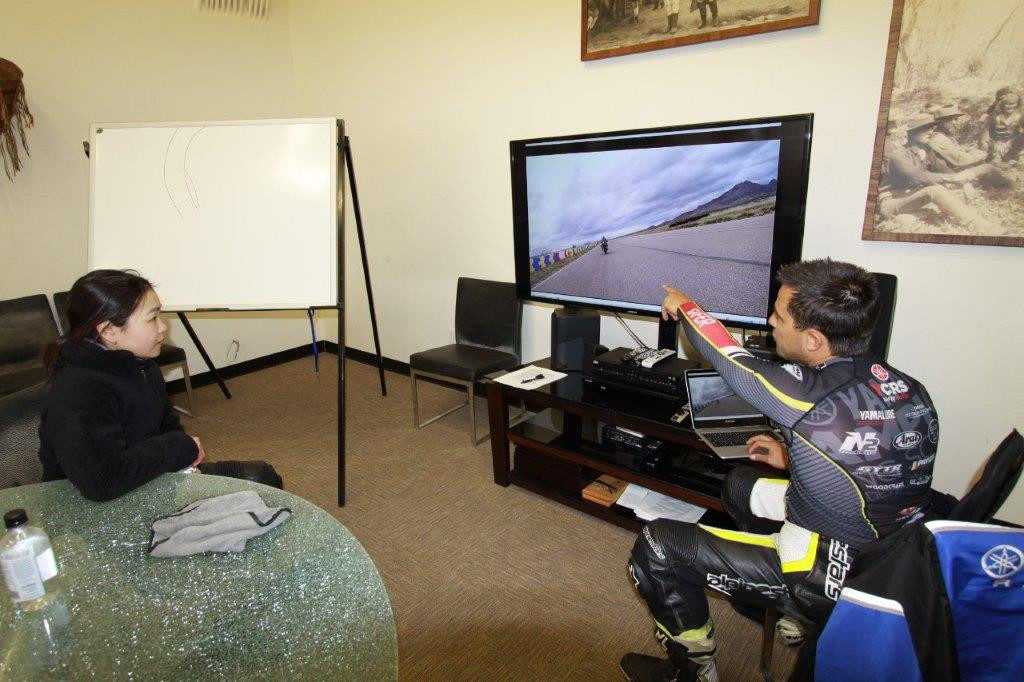 When it was my turn to ride again, I realized how much more I could push myself and the bike. Being the cautious rider that I am, I didn't go full-out with open throttle and full brakes. But with each turn, I pushed myself to look ahead and accelerate more as soon as I got direction in each turn. I learned to connect my eyes with the throttle like Chris had told me, rolling off the throttle and going for gentle but firm brake inputs, and trying to avoid extended periods of neutral throttle. Chris took some Go-Pro videos of me and explained what I was doing well and what I should work on in each turn. Seeing what I was actually doing rather than what I felt like I was doing really helped me visualize what more I could do, and that no matter how dangerously fast and leaned over I felt, I really wasn't going that fast or leaning over that far and I could push myself further.
As we drove out of the track, the desert mountains loomed far on the horizon and an epic haboob swirled out in the desert. Rain started pattering on the windshield and the winds picked up even more, whistling wildly. As all the adrenaline simmered down and I realized that my day at the track was drawing to a close, a sudden melancholy grew in my throat. We had gotten six full half-hour sessions for a total of three hours of track riding, which was unheard of. But it went by so fast. "What if this is the last time I ever get to ride such a fun bike on such a beautiful track?" I thought. Sam, noticing the pensive look on my face, instantly knew what was spinning through my head.
"Oh, don't worry! You'll get to ride on a track again soon enough. And maybe next time we can take your KTM!" he reassured me.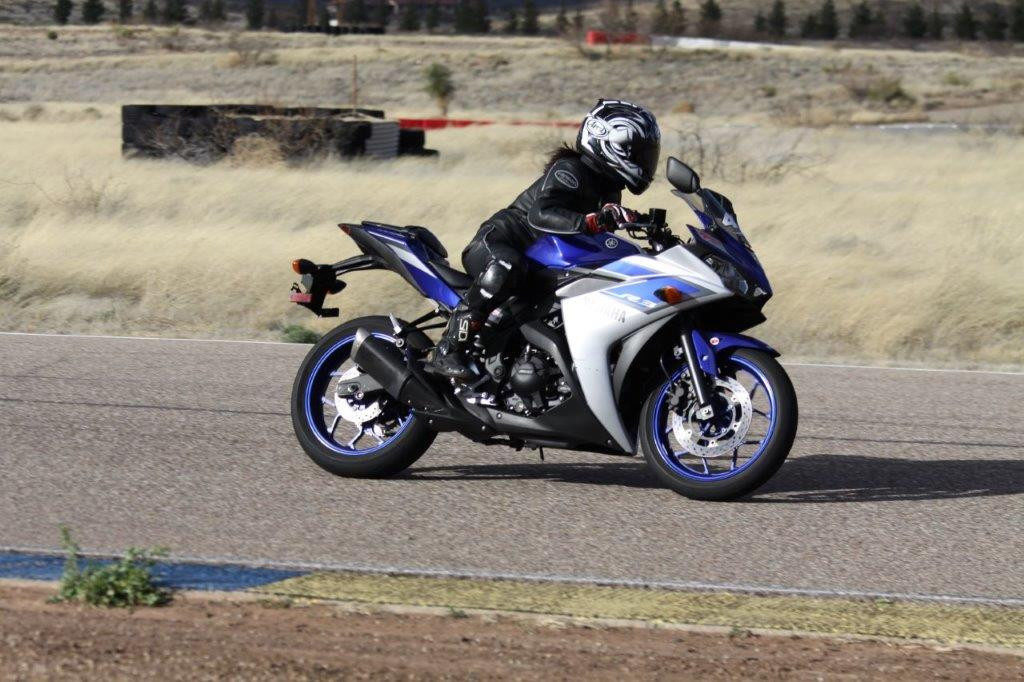 Glowing, golden light shone through the oppressive clouds, beaming across the spectacular rocks. The magnificent silhouette of the desert mountains disappeared behind us as a breathtaking double rainbow glowed in the vast sky. A whole new world of challenge and excitement was awaiting me, and I couldn't wait to get back on the racetrack.
If you wish you could be adopted into the Army Of Darkness but it seems like this dream isn't going to come true, you can still train privately with Chris Peris and/or the Yamaha Champions Riding School. E-mail [email protected] or visit ridelikeachampion.com.