FIRST PERSON/OPINION:
My First Time On The Racetrack
By Hiyori Yoshida
I feel the pressure in my arms as I hear Chris Peris' mantra, "brakebrakebrake," in my head as the forks compress, turning into the apex onto the straightaway. I hunch low on the gas tank, my right wrist holding the throttle wide open. I finally get the speedshift right and catch 4th, 5th, then finally, 6th gear. I can't help but grin, my cheeks pressed against the sides of my helmet. For the first time, I feel like I'm letting the motorcycle fly free at its full capacity, with no trees, ruts, cars, or speed limits, and full traction.
Five years ago, racing into a 20-mph headwind chasing five-time Army of Darkness WERA National Endurance Champion Chris Peris astride a Yamaha YZF-R3 would have never seemed possible to the 15-year-old, quiet girl living in Japan. Growing up in Japan, I was taught to be respectful and not stand out, ever. I feared motorcycles and anyone associated with these loud, large, dangerous vehicles, since in Japan, motorcycles are taboos that provoke affiliations with the mysterious and scary Japanese gangster mob, the Yakuza. My wariness about motorcycles completely flipped when I got adopted by the captains of the multi-time WERA National Endurance Championship-winning team known as Army of Darkness (AOD).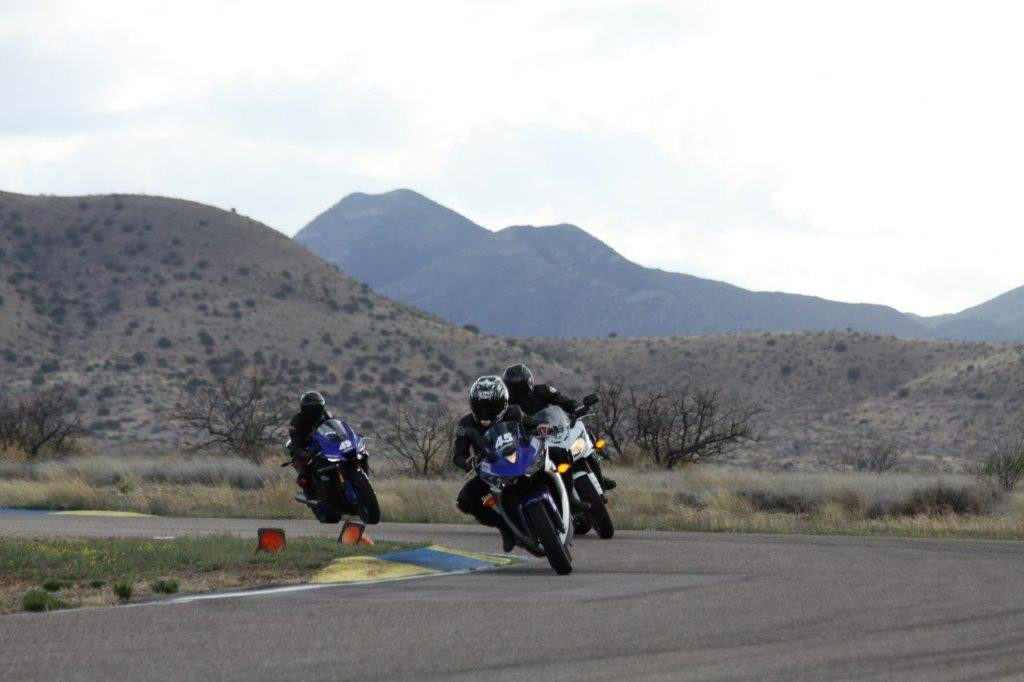 Sam Fleming and Melissa Berkoff, my new parents, were the most adventurous, maybe crazy, and definitely loving parents I could've asked for. The first wheelie on an exhilarating street ride on Sam's FZ1 made me realize that motorcycles are not that bad. In fact, they're pretty damn fun. Sam and Melissa have made me realize this about many things, including rock climbing, SCUBA diving, and just living life in general.
I can safely say that, had I never left Japan, I would have lived my life never having heard of, let alone touching, a clutch. Motorcycles are loud and dangerous. Girls are dutiful and conform to kawaii (the Japanese culture of cute, liking Hello Kitty). And that's that in Japan. When Sam first took me on the back of his motorcycle, I never would've imagined being the one to control such a beautiful, complex, powerful animal. But, of course, it would have been unacceptable for the daughter of the AOD to not be able to ride.
Sam first taught me how to ride on a Yamaha TT-R125 dirt bike (bored out to 150cc!) in the grassy fields surrounding the family cabin in West Virginia. My enthusiasm for motorcycle riding didn't blossom as quickly as one would expect, partly because I still felt like such a loud, seemingly reckless activity was not meant for me and partly because anything beyond noodling around flat, treeless fields inevitably led to me lying in the grass, my dirt bike sputtering miserably beside me. But as Sam, Melissa, and various family friends and racers — including Ben Walters from AOD — taught me about throttle control, body position, braking, and counter-steering, I began to enjoy the challenges of counter-balancing the bike into tight turns, blipping over logs, carrying momentum up rooty hills, and even the occasional wheelie.
After a few months on the TT-R, Melissa let me try her Honda CRF150RB. It was love at first ride. The geometry, the power, the height, everything felt faster and a lot more challenging. I got my own CRF150RB, and it has been my favorite bike ever since. But it took me a whole summer to learn to ride the CRF. The first summer that I spent trying to tame it was blisteringly hot, suffocatingly humid, and mostly involved me throwing my bike on the ground or it throwing me off into the trees. With 10+ hours of repeating this cycle of crashing, getting banged up, and picking myself and my bike up off the ground, I got better and better at controlling the throttle and positioning myself to allow the bike to do what I wanted.
There are two things that Sam and Melissa have taught me that have enabled me to physically keep up with and enjoy not just the riding, but everything else we do: Physical conditioning, and risk mitigation. The only reason I can physically ride, crash, pick up my bike, and keep riding is because I consistently train at the gym and eat as healthily as possible. And the way I treat my body is the way I've learned to treat my bike. To be able to function at its best, Sam has taught me that I have to constantly maintain my bike. I have grown to really enjoy spending the afternoons with Sam and our other riding buddies in our garage, changing the oil, cleaning the air filter, adjusting valves, cleaning the pilot jet, and changing tires — all to make sure that when we go out there, our bikes are as ready as we are. Our risk mitigation doesn't end in the garage. Before we ride, we check the fuel, tire pressures, and chain tension, and bleed the air from the forks. When we ride, we always wear all the gear — body armor, knee braces, boots, helmet, and gloves.  We also check each other's gear and bikes so everyone on the ride is as prepared as possible.
In all honesty, all of that training and preparation is probably how I've had some spectacular crashes (like high-siding over the handlebars and landing face-first in hard-packed dirt, or somehow pinning my arm between the bark-busters and a tree twice as wide as myself) yet have gotten away with nothing worse than swollen bruises and sore muscles. This is why when I took the MSF (Motorcycle Safety Foundation) street riding class, while nothing but jeans, boots, and a jacket were required, I brought my own body armor and one of Sam's many full-face helmets to the parking lot training. It was probably overkill since all we did was do some exercises in the parking lot, but I didn't want to risk it. If you have the gear, I thought, wear it all the time!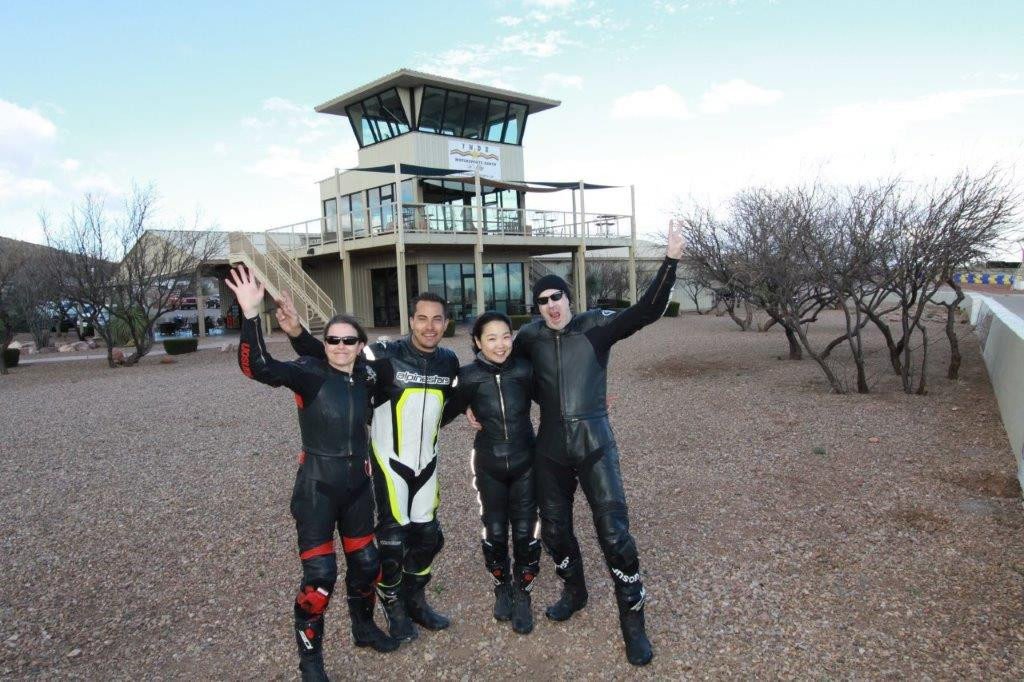 After getting my motorcycle license, I couldn't wait to try riding on the street. One day, when I was walking on my college campus, I found a super cool-looking, sleek, orange bike— a KTM Duke 390. I snapped a photo and texted it to Sam, as I do whenever I spot any cool bikes around campus. It turns out the 390 is a good beginner's streetbike, and Sam found a used one upon which we remapped the FI and upgraded the suspension. The first couple of times Sam and Melissa took me out on the street on my new KTM, I had fun, but I felt restrained. Coming from dirt biking where I could do whatever I wanted wherever I wanted, in the grass, the mud, the trees, on hills, and in creeks, I felt like I was not fully enjoying the power and freedom that my KTM had to offer on the busy streets of suburban Washington, DC.
I began to wonder what riding on a track was like, where there were no traffic lights and pedestrians, just turns, hills, and other motorcycles. Plus, Melissa insisted that I get some track training to understand how much I could ask from a bike when needed. So when AOD racer Chris Peris offered to train me at a racetrack in Arizona, I knew this was the opportunity I had been waiting for.
To be continued...